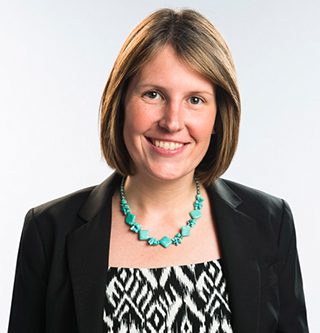 In June I attended Retail TouchPoints' Retail Innovation Conference (RIC) here in New York, and with a stated theme of "reimagining the customer experience," I could not have felt more at home. I admittedly attended the conference with my own agenda — to persuade an audience on the power of personalization in driving customer lifetime value — but was thrilled to see many of the day's sessions round out this thesis.
All told, there are five realities that marketers must embrace in their pursuits to maximize the metric that matters most, customer lifetime value:
1. True personalization transcends segmentation and is about the individual. As our client Susan Boares, VP of Retail Operations for Alex and Ani, put it in her panel, marketing is "going back old school." Meaning that consumers have a thirst to be treated as they were in the boutiques of yesteryear; the shopkeeper knew them, their tastes and could proactively engage with little information; he'd know if you were likely to buy today, what styles you were most likely to wear, etc.
Segmentation is a proven marketing science and undoubtedly works. Retailers have relied on models such as RFM (recency-frequency-monetary) for some time. But one-to-one predictive marketing — versus backward-looking segments — works better. We've found that when marketers focus on forward-looking predictions for likelihood to buy versus traditional segmentations, they've been able to generate upwards of 40% more revenue.
Of course, automation is table stakes to treating customers as individuals, as one-to-one personalization is barely achievable, never mind scalable, without it.
2. Personalization is not limited to a single channel. Customers now expect a consistent brand experience across the various channels, which 1:1 facilitates. But even if you're not yet at the point of automating that, there are steps you can take to help you get closer. At RIC a leader from BaubleBar shared a success story about leveraging video chat to drive customer transactions; average order value for shoppers who engaged with a stylist using online video chat boasted 300% higher average order values.
We rely heavily on what we've dubbed the personalization "maturity curve" to showcase the ROI potential in various forms of personalization. As you will note below, the further a brand gets to being optimized for personalization across multiple channels, the more compelling the lift. And the more solvent that lift as well; we begin talking about returns in terms of dollars and lifetime value versus merely clicks or visits.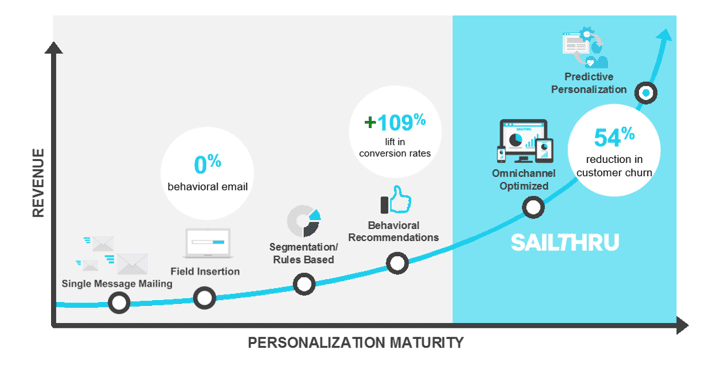 3. It's still more cost efficient to retain an existing customer than to acquire a new one. It can be as much as 5X more cost-effective to retain an existing customer than to acquire a new one, but the reality of today's marketing landscape is that many teams are still focused on top-of-funnel acquisition. I was thrilled to hear so many RIC attendees talk about the importance of retention, and again, understanding the importance of providing relevant message to each individual. As Kelly Loubet from Origami Owl explained, "digital has evolved from being just a megaphone to customers." To keep customers and boost the unit economics of our acquisition programs, we must focus on personalized, one-to-one retention.
4. …but retention is not the same as loyalty. Every great marketer will focus on retention, and most can deploy CRM strategies to help boost those mechanics. If quarter-end numbers are low, you can deploy a time-bound discount to provide a quick catalyst to sales. But it's important to remember that retention is not the same thing as loyalty; retention can breed loyalty, but it doesn't guarantee it. Sure, you drove sales today from that discount, but had it been Brand X offering the sale instead of your team, would the customer have shifted that wallet share elsewhere? Best-in-class marketers must always "play the long game" — don't optimize for conversions today, which technically qualify as retention if they are a second- or third-time purchase, but focus on building relevant, long-term relationships that manifest themselves in the form of lifetime value increases versus mere sales.
5. Measuring your ROI may take time. Loyalty cannot be measured overnight; lifetime value, as the name implies, is a longer term, longitudinal metric. Sure, machine learning and data science help us to estimate it — a one-year CLV estimate is something we provide on all unique customers via our predictive analytics tool, in fact — but to fully realize the value of personalization, there must be a commitment to monitoring impact over time. Consider the welcome series that offers countless incentives versus the one that pushes customers to pay full price: sure, the discounts may drive more conversions today, but what is their impact on repeat purchase rate? One-year customer value?
Marketers often get caught in the "here and now" of marketing optimization on account of pressures to hit monthly or quarterly numbers, but to truly understand the value of personalization, they must be willing to balance lightweight, classic A/B testing with longer-term longitudinal/cohort studies. The dividends from the level of 1:1 personalization we talk about here do not manifest themselves in sales today, but rather in true long-term business solvency.
---
Cassie Lancellotti-Young is EVP of Customer Success at Sailthru. Lancellotti-Young is responsible for driving quantifiable success across Sailthru's client portfolio by way of optimization products and services, including Sailthru Advanced Analytics, Sightlines and the company's professional service offerings.