One common denominator sits at the core of every successful, profitable, and self-sustaining marketing strategy: acquiring new customers.
This starts with getting unknown web site visitors to willingly opt in to subscribe or sign up to receive your communications, discounts and other offers.
There are six ways that today's most successful and innovative brands are getting anonymous contacts to give their information and become a known contact. We'll show you each of these, and how you can use them. They include:
Classic acquisition box or sign-up form
Entry overlays as soon as contacts land on your web site
Banners or ribbons that sit at the top your web pages
Re-permission forms to help ensure GDPR compliance
Strategic exit intent popups​
First, let's discuss why customer acquisition matters for e-Commerce companies, and tricks for getting more sign ups.
Why Is Customer Acquisition Important?
Customer acquisition is critical for driving business growth and sustainability. Acquisition breeds retention​ — and it's 5X more costly to get new customers than keep the ones you have. But in order to retain, you MUST acquire.
At the onset, it's important to create a connection with a new contact — precisely to show them they're more than simply a "contact," another email address in a giant pool. Today, customer acquisition requires that we provide personalized experiences.​
All of the main tactics we will dive into here are requests for customer data in some form or another — forms, buttons, or boxes.
ALL acquisition tactics discussed should include as many of the "Three P's" — prominence, promise, and proof — as you're able.

Email signup forms come in all shapes, sizes, and treatment/appearance methods.
Tactics For Turning Anonymous Visitors Into Subscribers
Here are six ways to earn new customers online.
Acquisition Box
These are your most common web site forms to encourage people to sign up for your marketing communications.
But you don't want to show the same opt-in form to people who have already subscribed.
In order to go beyond prompting each user with the same opt-in box, automation technology can distinguish between subscribed and unsubscribed users — then only show the newsletter subscription box to unsubscribed users.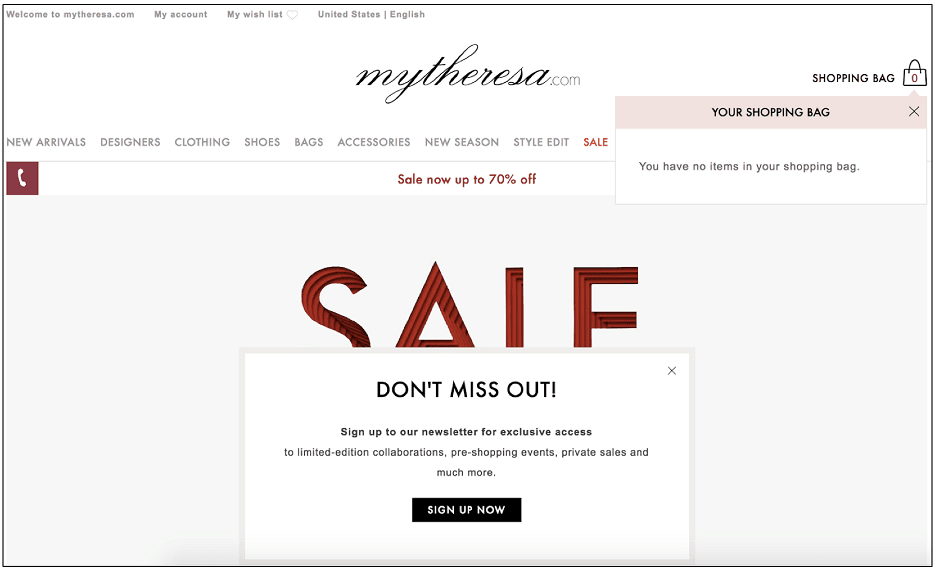 Mytheresa uses an acquisition box that points users to a separate landing page for email collection.
Acquisition boxes work best when they sit or float in the sidebar, or appear as overlays.
Related Content: At the Intersection of Personalization, CRO, and SEO: Q&A with Andy Crestodina
Entry Overlay Email Sign-Up
You're probably familiar with exit intent overlays. But entry overlays work in the same way as soon as anonymous users enter your web site.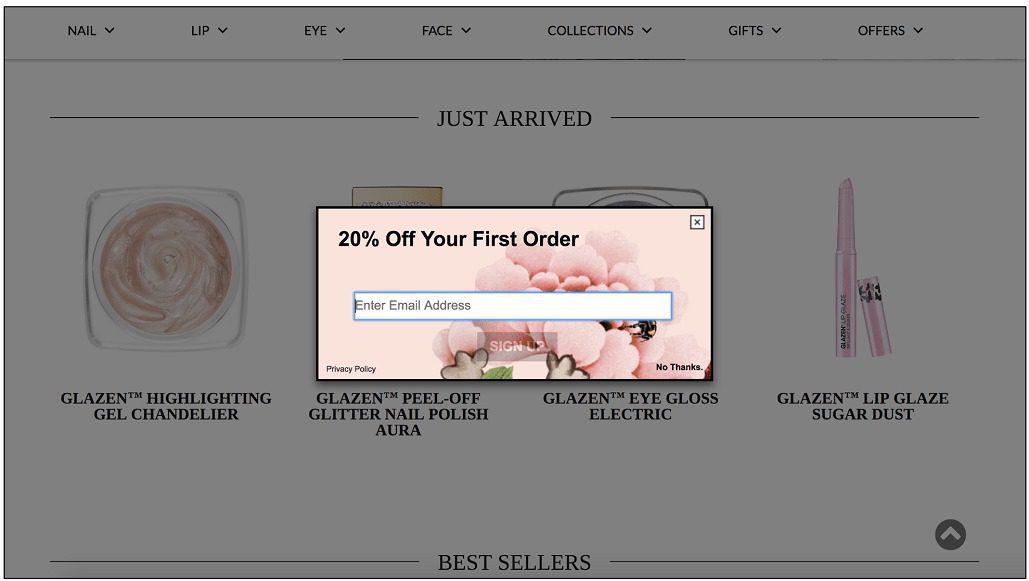 Entry overlays don't have to be giant mats that cover the screen. Butter London presents its entry overlay as a simple, condensed sign-up box.
Though they're used for the same purpose, these differ slightly from acquisition boxes as they grey out the background, and force the visitor to convert or click out of the box.
Again, program your marketing platform to only show these to anonymous users, so as not to annoy those who have already subscribed.
It's important to distinguish between a pop-up and a modal/overlay — overlays are visuals of some type that ask users to enter their information in exchange for their information. These don't create as many issues as pop-ups, from Google's perspective.
Exit Intent Overlay
Exit intent pop-ups are a last chance effort to capture the attention and email address of users who are leaving your web site. They can help win back users who visit your web site but show "exit intent" without making a conversion. These work for both known and anonymous users. There are two main execution options with this acquisition method:
Option 1: Include product recommendations for existing contacts onsite to drive engagement and next best action.​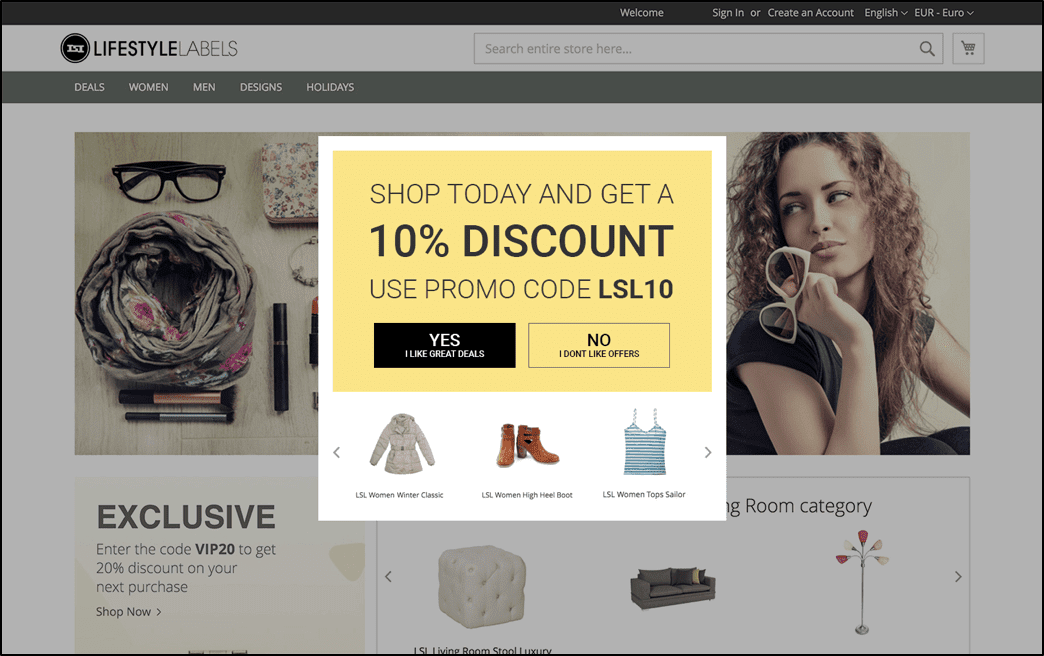 Option 2: Show anonymous visitors an overlay with a promotion, including a request for their email address.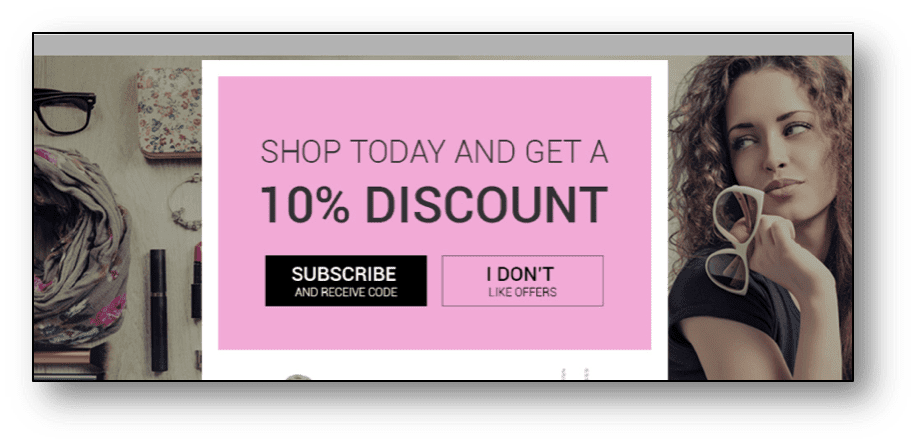 Exit intent overlays, when executed right, work very well for e-Commerce. One shoe brand, for instance, saw a 412% increase in email signups and drove a 9.81% increase in overall order volume.
Rawlings offers a discount on exit intent, and asks for your email address: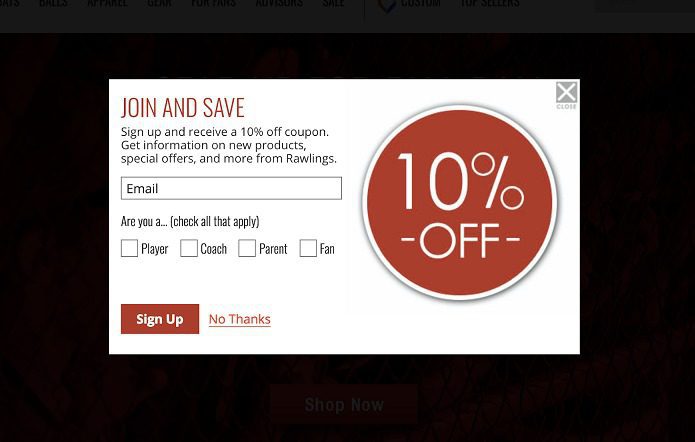 Upon exit intent, baseball equipment supplier Rawlings prompts unknown users with an entry overlay that includes a discount offer.
Ribbon Campaign
Ribbons (sometimes called banners) offer a viable option to add a sign-up strip to your web site, usually situated at the top (and sometimes bottom) of the page.
These work well if you want to spark your anonymous visitors' interest and grab their attention by encouraging them to sign up with an element that's front-and-center.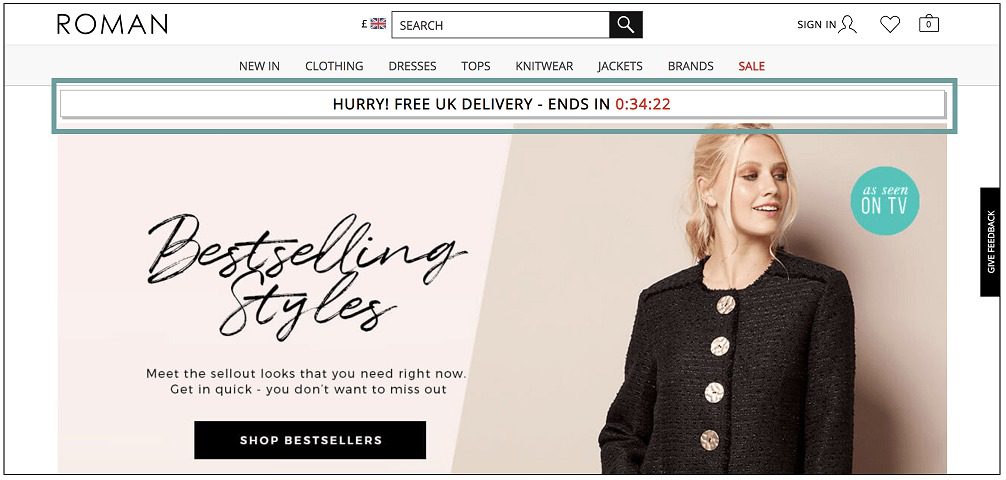 Roman Originals, a London-based luxury fashion brand, leverages a ribbon including a countdown timer to incentivize shoppers to take action.
Re-Permissioning For GDPR Compliance
Asking users to re-subscribe is crucial, especially in the post-GDPR marketing world.
Related Content: The Definitive Chapter Guide to Re-Permissioning Campaigns for GDPR [Examples]
You can automate this process, too. If you're able to distinguish between anonymous users and opted-in users, you can re-permission your known contacts to ensure they want to stay part of your database.
You can target only "lapsed" contacts if you choose – showing the form to known users who haven't engaged in a specific period of time, like six months.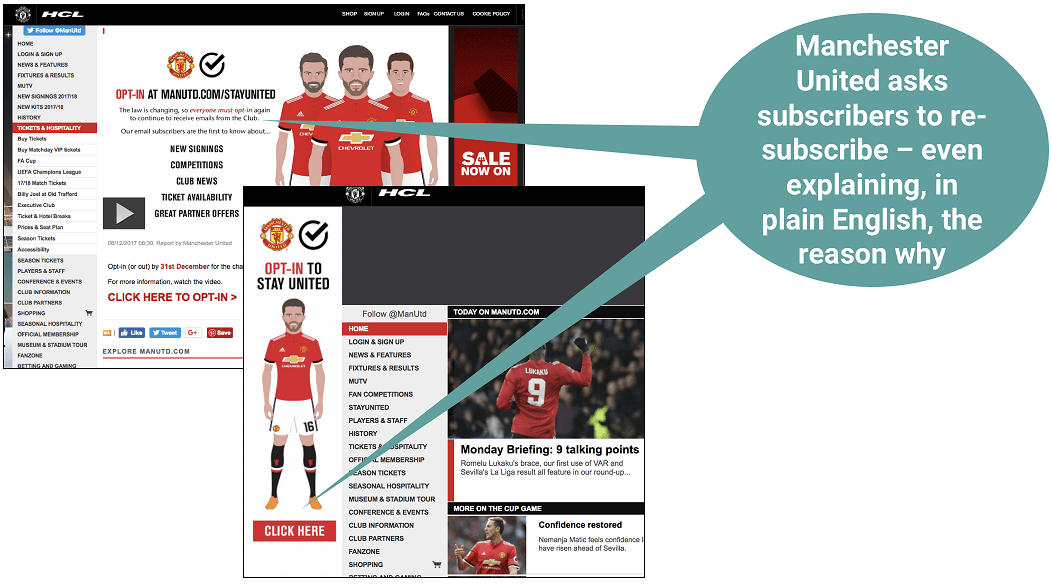 With GDPR regulations forcing us to take our subscribers' consent more seriously, you can use these forms to survey older data and ensure GDPR compliance.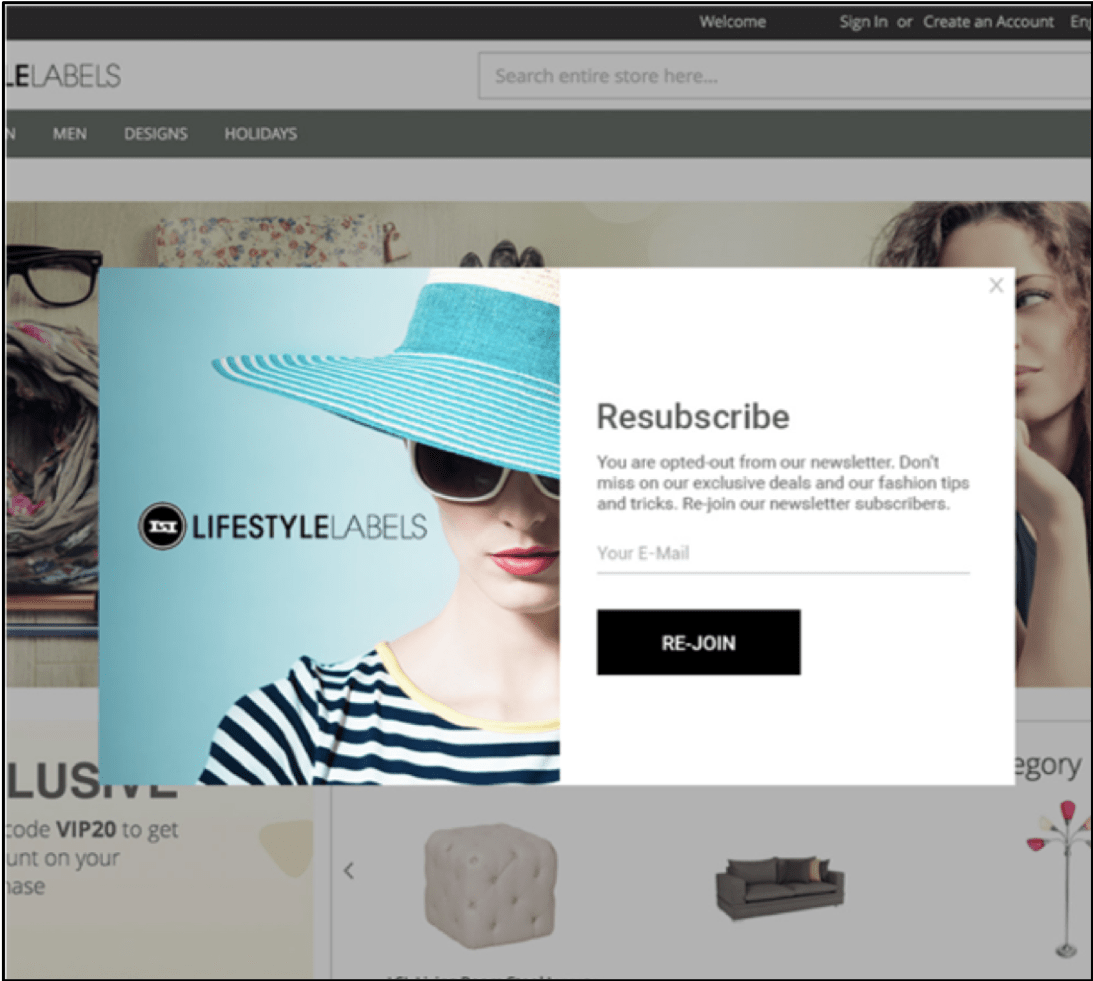 Get In-Store Shoppers To Sign Up Through SMS
This final point is about expanding the scope of your communications by finding new audiences in new places. A creative way to find new fish in untapped waters is to ask brick-and-mortar shoppers to sign up via text.
Forward-thinking brands are using offline interactions to funnel customers to SMS communications where they have more control over content and communications — turning potentially unknown store browsers to known database contacts for further nurturing.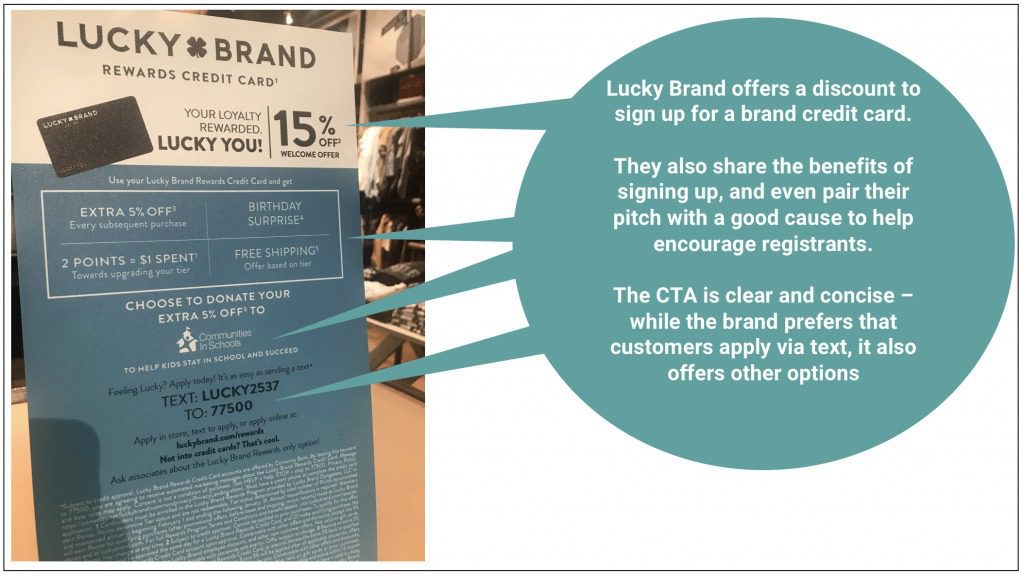 Display a discount code for SMS sign-ups within your stores for offline customers. Source: Lucky Brand
While it's wise to offer other opt-in options using in-store signage, the idea behind encouraging SMS sign-ups in a retail environment is that shoppers today almost always walk around with their phones in their hand. Texting is an easy, swift way to ask the customer join your fan club.
Final Thoughts
Getting opt-ins and converting unknown web visitors to known contacts and eventually into customers isn't an easy feat.
Used strategically, and in tandem with one another (and to complement the rest of your digital marketing strategy), these six best practice techniques for capturing anonymous web site visitors will give you a leg up on everyone else who isn't prioritizing new customer acquisition.
---
Lindsay Tjepkema is the Director of Marketing at Emarsys. She and her team deliver resources that empower marketers to seek out solutions and strategies that will allow them to thrive by focusing on what they love — strategy, content, and creative — not the technology, itself. Although her true love is tech marketing, she has worked in a range of industries, from life science to talent management, economic development to software development, eProcurement to social networks and more. She has crafted and executed B2B and B2C strategies for brands like Intel, LinkedIn Marketing Solutions, Office Depot, SalonCentric, Ashley Furniture and more. Her experience is built on time spent leading in-house teams, in agency settings, and independently running her own marketing consultancy.
Connect with Lindsay: LinkedIn • @blueprintmkt