Alibaba has set a new high water mark for a single day of sales. The 11.11 Global Shopping Festival, held on Singles' Day, smashed previous records this year with sales reaching RMB 213.5 billion (USD $30.8 billion) an increase of 27% over 2017 and amounting to more than a billion orders.
Singles' Day began as a celebration of pride in being single, held on the eleventh of November because the date consists of a series of ones: 11/11. It did not take long for retailers to recognize that the tradition, which began in the 1990s, was an opportunity to promote their products to the young, single consumers celebrating the unofficial holiday and it quickly became China's largest online sales day. Alibaba, the country's largest e-Commerce retailer, founded the 11.11 Global Shopping Festival to capture these sales.
In 2018, the 24-hour shopping event celebrated its 10th anniversary and saw Alibaba setting a new global sales record. With sales in more than 200 countries from more than 180,000 brands, Alibaba's numerous sales channels including Tmall, Lazada and Freshippo broke milestones from the previous 10 years one-by-one as the day wore on. The Alibaba Group alone earned USD $30.8 billion in sales on November 11th, 2018 — that's 7.3X Amazon's Prime Day estimated global sales, 4X forecasted U.S. Cyber Monday sales and 1.3X forecasted U.S. sales for the five-day Thanksgiving weekend, including Black Friday and Cyber Monday.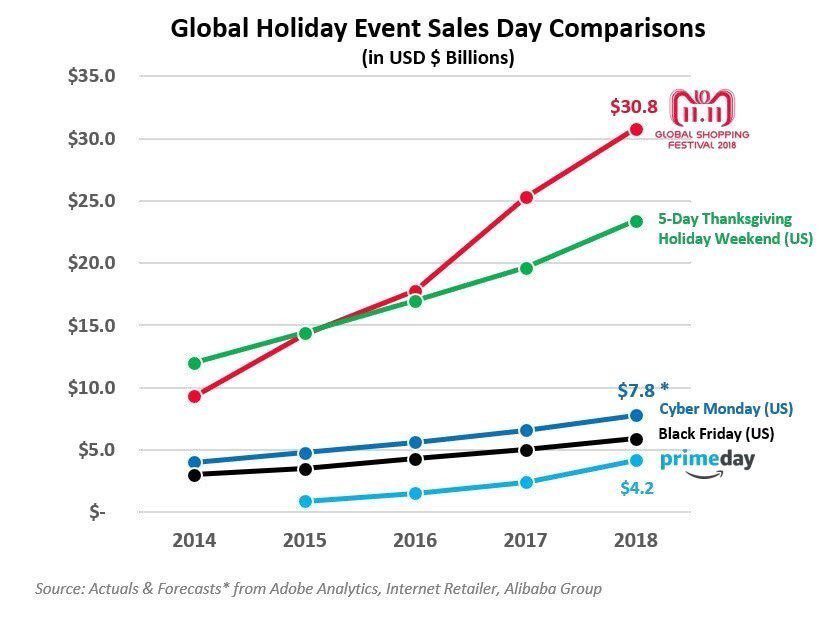 'New Retail'
The sheer scale of the 11.11 Global Shopping Festival is without comparison. The annual event used to be all about Tmall, Alibaba's major B2C marketplace, but by 2018 the event has expanded across Alibaba's digital ecosystem. Newly acquired e-Commerce platform Lazada held Singles' Day sales for the first time across its six Southeast Asian markets. Local services were expanded with the company's on-demand delivery platform Ele.me providing delivery from Starbucks Coffee stores in 11 cities.
Alibaba also expanded its physical present through its 'New Retail' strategy — the seamless integration of the online and offline worlds to create a retail ecosystem that enables omnichannel consumer engagement. Alibaba's signature New Retail supermarket chain Freshippo, formerly known as Hema, featured numerous promotions during the one-day event.
New Retail is also at the heart of the roughly 200,000 "smart stores" across China, mom-and-pop shops powered by Ling Shou Tong technology (which means "Retail Integrated") which allows them to integrate with Alibaba's distribution network and modern analytics. Many of these shops are also classified as Tmall Corner Stores, acting as pickup points for the third-party e-Commerce platform. Between these smart stores and other recent brick-and-mortar investments including RT-Mart and furniture retailer Easyhome, 11.11 has never had a greater impact on offline sales.
Going Global
Through its majority ownership of Lazada, Alibaba was able to make a strong push with 11.11 in six new Southeast Asian markets, but the group's global reach doesn't stop there. In 2018, promotions were aimed beyond China throughout Asia, the U.S. and Australia. These promotions were heavily targeted toward Chinese consumers living in these countries — for whom Alibaba is a household name — but were available to anyone in these markets.
In addition to the Alibaba Group expanding its reach globally, international brands also expanded their presence within China. 237 brands from Japan, the U.S., Germany and others – including global heavyweights such as L'Oréal, Nestlé and Apple — together earned RMP 100 billion during the one-day event (USD $14.4 billion), nearly half of total sales.
23 hours and 20 minutes into Singles' Day 2018, the Alibaba-owned Cainiao Smart Logistics Network received its 1 billionth delivery order of the day. Cainiao had stated that it had upgraded its technology and systems to handle the anticipated — but unprecedented — volume of orders that would be coming through during the 11.11 Global Shopping Festival, but in the coming days we will learn how this logistical challenge will be handled.
The Future Of 11.11
It's important to note that these record-breaking sales figures only account for the Alibaba Group's sales. When including other major Chinese retailers, total Singles' Day sales in 2018 were significantly higher. JD.com holds an 11-day rival shopping event between November 1 and 11, this year setting their own sales record of USD $19.1 billion. Rather than competing directly against Alibaba for sales during the critical 24-hour period, JD.com spreads its sales over a week and a half in order to give shoppers more flexibility and time to make purchasing decisions, with the added benefit of reducing delivery bottlenecks and preventing the 'one billion orders in one day' logistical challenge faced by Cainiao.
Among Alibaba, JD.com, and their competitors, brands cannot afford to miss out on Singles' Day going forward. This year more than 40% of consumers purchasing from international brands and the most successful brands leveraged not only the major platforms but also Alibaba's unmatched data and insights. For instance, Mars Inc., the world's biggest confection producer, collaborated to develop a new chili-infused Snickers bar (which holds a 92% positive rating on the platform) and L'Oréal collaborated with Tmall on a new line of men's grooming products. Brands have the opportunity to work with Alibaba in order to identify the unique wants and needs of Chinese consumers and break into one of the world's most valuable markets.
While the growth rate for Singles' Day has begun to slow – primarily due to its now-enormous scale – the size and influence of this holiday goes largely under-valued by the often U.S.- and Amazon-centric e-Commerce news beat. The dominance of Alibaba's 11.11 Global Shopping Festival — and the group's ability to generate an unprecedented amount of sales within a single 24-hour period — makes Alibaba easily one of the most important global retail ecosystems for brands and suppliers competing in the new retail reality.
---
Chris Perry is the VP of Global Executive Education at
Edge by Ascential™
(formerly Brand View, Clavis Insight, One Click Retail and Planet Retail RNG) on a mission to help empower Leaders of Change — both people and organizations — to become better at what they do so that they may make the positive impact to which they ultimately aspire. Over his career to-date as a CPG e-Commerce practitioner, he has led the e-Commerce strategy, organization, capabilities and activation across Reckitt Benckiser, WellPet and most recently Kellogg's, generating collectively $350MM+ in profitable revenue growth, 1000s of bps in online share leadership and collaborative joint partnerships with over 25+ top e-Commerce retailers.