Financial technology describes the evolving connection of financial services and technology, disrupting traditional financial services, including mobile payments, money transfers, loans, fundraising and more.
From new financial services that, until recently, one could only get from banks or financial advisors, to innovative payment products (wearables), FinTech is transforming the customer journey and the way shoppers interact with brands.
Organizations are forced to follow current payments trends in order to deepen customer engagement and loyalty and move at the speed of their customers. While most brands are currently focusing on leveraging mobile moments, optimizing loyalty initiatives for mobile devices, other connected devices have started revealing increasing adoption by consumers.
In fact, according to Forrester, the adoption of consumer wearables will grow 28% by 2022.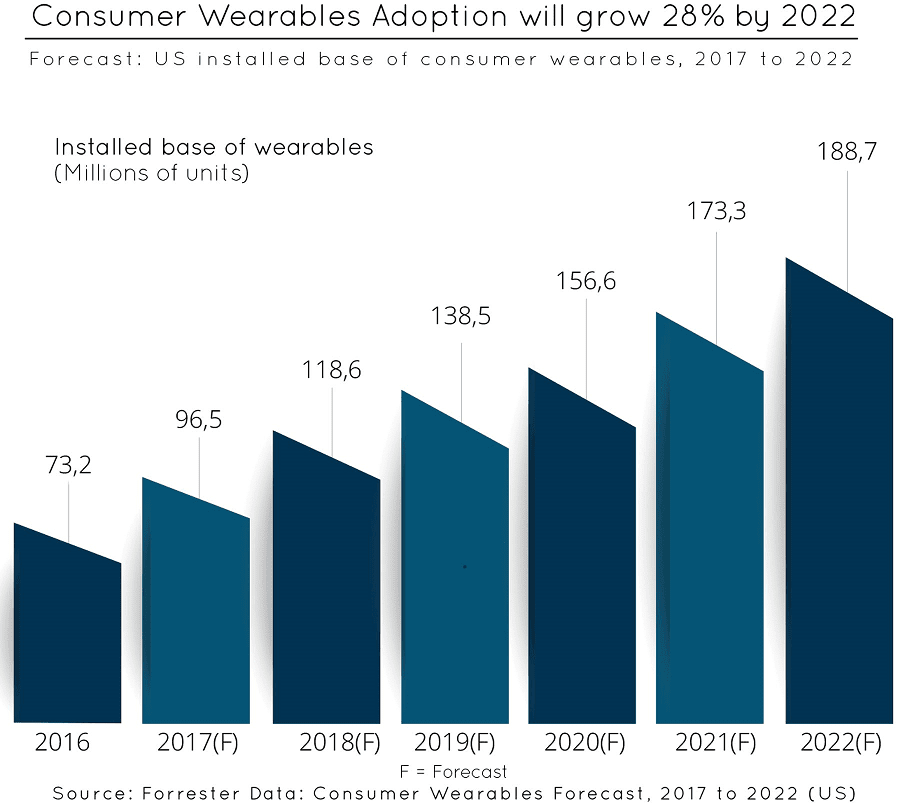 How Wearables Enhance The Customer Experience
From checking your smartphone notifications or tracking your fitness to making purchases without having to take out your wallet, mobile or card, there are plenty of wearable devices that are improving the quality of our lives, making them more convenient.
Convenience is key for today's shoppers. Being able to effortlessly pay with a simple tap transforms not only the entire shopping experience but everyday life. Shoppers gain valuable time by completing transactions with ease, receiving a positive brand experience.
The benefits for the consumers are obvious, but wearables are revealing numerous opportunities for brands too.
Building The Perfect Omnichannel Experience
As the lines between e-payments and loyalty are blurring, brands know that it will not be long before wearables become a regular part of e-Commerce and loyalty programs.
Payment wearables enable organizations to provide a seamless customer experience and build the perfect omnichannel journey. Imagine being able to reward customers for making purchases through their payment wearables, while being able to track at the same time their behavior and preferences.
Retailers can now transform in-store experience through wearables, by providing timely and relevant messages or offers to customers and engage with them directly to their wearable device, in real time. This could also be in the context of a loyalty program. But even without a loyalty program in place, personalized and relevant interactions can help you cultivate customer loyalty.
Winning Customers' Trust With Wearables
These devices are able to collect and share valuable data via embedded sensors. For marketers, this opens the window for continuous customer service improvements and real-time personalization, other key factors for today's shoppers.
What brands should consider is that privacy and security are consumers' main concerns regarding the impact of wearable technology. Consumers want to know how their personal data will be used and safeguarded, regardless of the channel they use to interact with your brand.
Make sure you meet their needs for data protection if you aim to build real connections with them and help them get what they want when they want it.
The future of wearables seems promising and businesses that will embrace this new dynamic will be able to create exciting customer experiences and remain competitive.
---
Vagelis Karalis is Chief Customer Experience Officer, FF Group & CEO for QIVOS. With a career of over 12 years on marketing technology, is recognized for loyalty programs, omnichannel and customer relationship management. He has studied Mathematics, and holds a master degree in Sales Management & Marketing. Having specialist knowledge in big data and trending marketing techniques, Karalis is more than capable of transforming client operations into a competitive advantage for growth.