Today more than ever, people seek out meaningful, shareable experiences in their daily lives. We see evidence of it everywhere. Travel, theme parks, fitness studios, concerts, movie theaters, casinos, restaurants. Each offers an experience. Each arms its recipient with a story to share.
One segment that hasn't kept up with this 'rise of experience' trend, however, is retail. People didn't abandon shopping. Retailers abandoned shoppers. They took shoppers for granted, and assumed they would remain loyal to old habits. Look no further than the weekly bankruptcy headlines to get a feel for the damage this type of dogmatic thinking has done to the industry.
Amazon was quick to fill this growing retail 'experience gap' by offering unparalleled convenience. Masters of removing friction from the shopping and buying experience, Amazon has gotten shoppers addicted to the ease and convenience of buying virtually anything with a couple of clicks at a competitive price, and having it delivered to their home in as little as a couple of hours. But does convenience alone satiate the human desire to seek out the meaningful shareable experiences they crave every day? Hardly.
As evidenced by dozens of once e-Commerce-only 'pure plays' opening thousands of brick-and-mortar locations and pop-up stores, and a few savvy legacy retailers who 'get it', there is clearly a place for physical retail in 2019 and beyond. They are clearing the path for a new type of shopping experience — one that takes the friction-eliminating nature of digital technology and infuses it with the spacial, sensory-filled, shareable experiences shoppers crave.
We studied the best of these hybrid shopping experiences, and using our knowledge and expertise in marketing, branding, human behavior, technology and retail, we deconstructed these shopping experiences — the ones that are clearly winning the battle at retail. In doing so, we discovered seven strategies that, when thoughtfully linked together, can serve as a retail innovation playbook for success in the physical retail game.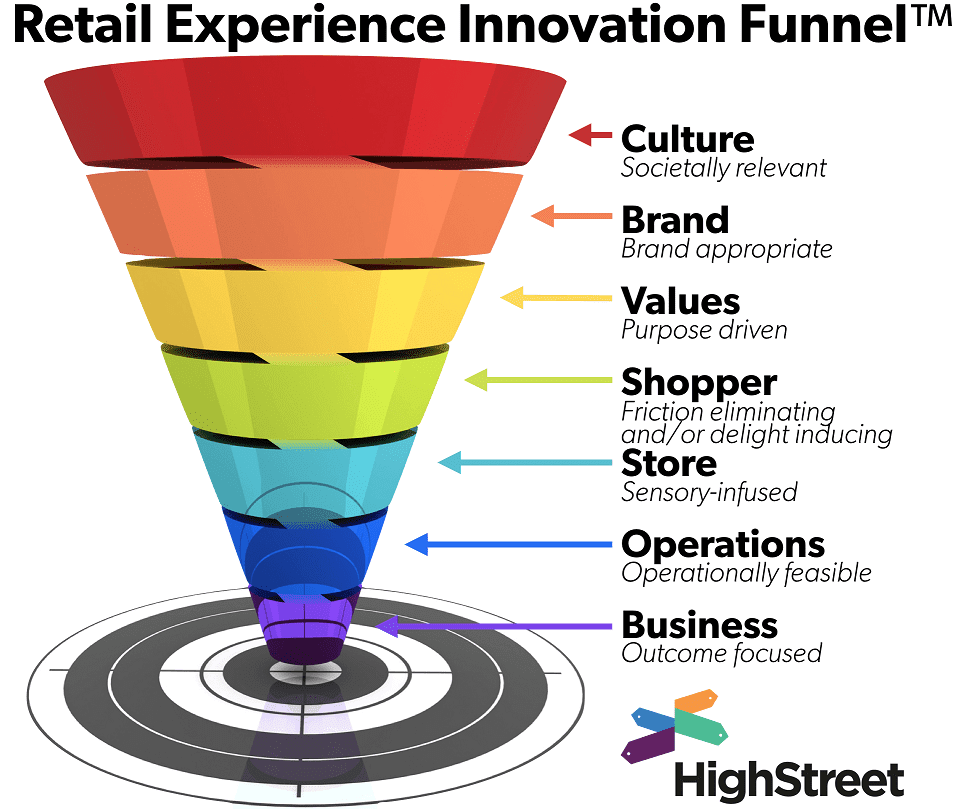 We call these repeatable seven strategies the Retail Experience Innovation Funnel, and we share it because we believe it serves as a blueprint for those retailers and brands poised to position themselves for retail success in 2019 and beyond. The seven strategies that make up the playbook are as follows:
Culture — Societally Relevant
Brand — Brand Appropriate
Values — Purpose Driven
Shopper — Friction Eliminating and/or Delight Inducing
Store — Sensory Infused
Operations — Operationally Feasible
Business — Outcome Focused
Culture
Retail experiences should fit into the cadence of an ever-evolving society. By understanding today's shoppers and their worldview, you can set your store up for success by properly defining the guardrails, and creating a shopping magnet to get shoppers off the couch and back into the store.
Example: Citizen Supply is a one-of-a-kind 'maker's market' in Atlanta. Located inside trendy Ponce City Market, Citizens features more than 150 makers and over 6,000 products. Founder Phil Sanders built a story-driven space, complete with a constant list of events, live demos, and he is even opening a bar inside the space. New to retail when he opened the place in 2015, Phil instinctively knows his shopper — young professionals who live and work on Atlanta's trendy Beltline and are interested in cool experiences, authentic products and social-ready stories.
Brand
Store experiences that are tied to the unique qualities of the brand serve as points of positive emotions and instill memory triggers for future visits. By crafting experiences through the lens of the brand, you can deploy category-cracking concepts that become long-term differentiators in your market.
Example: Tiffany & Co, known for its signature blue box — one of the most iconic brand examples in history — has made luxury cool by featuring young celebrities in its marketing, and in doing so is attracting the elusive Millennial market. The brand-driven campaign is alive and well inside the New York flagship store. Its "Instagram-driven" Blue Box Café is always on a waiting list. They even created a graffiti-like façade to counter the stodgy feel some might have about the brand. The multi-million-dollar renovation will be complete in 2021.
Values
Retailers and brands that have an enlightened vision guided by emotion, and employees who are motivated to pursue the vision, stand a much better chance at success. By articulating a clear vision, and by hiring and training associates for hospitality-driven service, you can help your innovation plan stick for the long haul.
Example: For Cyber Monday this past holiday season, Bonobos held its 8th annual Ninjapalooza. This all-hands-on-deck event was created to fulfill the overwhelming number of customer orders. Participants get a one-hour crash course in customer care and work their butts off to deliver accurate, amazing service. In exchange, the company hands out trophies, prizes, food and beer.
Shopper
People are situationally motivated by basic, core tribal needs. By appealing to a shopper's intrinsic self-interest, you can better guide a solution that captures their attention, removes friction from the shopping process, subconsciously stirs their emotions and ultimately motivates more buying behaviors inside the store.
Example: Kate Hudson's Fabletics, a digitally native brand, is looking to quadruple the number of its brick-and-mortar locations. Leveraging technology and customer data, its proprietary "Omnicart" system bridges the gap between online and in-store. This enables customers to enjoy a truly seamless shopping experience no matter where they are. For instance, if someone tries something on inside the store, but doesn't buy, it's automatically added to their online cart in case she wants to purchase it later.
Store
The look and flow of the store are keys to maintaining shopper attention. Create the ultimate retail space based on what shoppers subconsciously and consciously crave from place, product and people. Keep in mind each of the shopper's senses and the "story" you want to tell inside each zone of experience.
Example: Eataly does a wonderful job of designing a destination full of sensory delights. Its mantra of "Eat. Shop. Learn." comes through in every square inch of the experience — from a wine bar to an educational chef's table to more than 5,000 retail products. Eataly USA's CEO Nicola Farinetti recently told Robb Report, "…we're on a mission of telling the story of high-quality Italian food and convincing people to put more time and thought into what they put into their bodies."
Operations
No doubt you have corporate, operational realities that guide decisions. By understanding key stakeholder concerns, the organization's propensity for embracing innovation and which barriers are truly immoveable early in the process, you can craft shopper solutions that have a better chance of becoming reality.
Example: Avoiding expensive labor overhead, health drink maker Dirty Lemon opened a cashierless store in Manhattan. Customers walk in, grab a $10 drink and text a representative to pay for it. The honor system is alive and well, even in New York.
Business
Everything boils down to a business case. By thinking in terms of KPIs at every step, you will be well-equipped to sell in ideas for pilots, and build an ROI-based business case for multi-store rollout.
Example: Nike reduced its dependence on wholesale retail from 84% in 2014 to only 70% in 2018, as the company sees direct-to-consumer as the way forward for the brand. Operating 7,000 branded stores currently, Nike is exploring new physical store formats with a focus on KPIs. For instance, since its October 2018 opening, Nike's Shanghai Innovation House has seen 85 million impressions on WeChat, welcomes 30,000 visitors a day, and revenues have rolled in at 1.6X their target.
So, there's the plan. It means being one part anthropologist, one part experience designer and one part technologist. It means building alliances with different departments inside your organization. It means being strategists and tacticians. Those retailers that follow this playbook and are able to plan, concept, create, deploy and measure innovative retail experiences are poised to succeed in 2019 and into the future.
---
Ed King is Co-Founder, Customer Experience Strategy for HighStreet. He is known as "The Mad Scientist" for a reason. Give him insights and he'll not only get to the why, but he'll uncover the non-conscious reasons they're happening — and which ones are CX gold. And here is where the magic resides: King's background as a creative director, change management consultant, sidebar empath and guerrilla neuro-maestro makes him a left brained/right brained strategic weapon. The only thing he loves more than cracking category conventions is sharing the data stories around the results. Along with his partner, Laura Davis-Taylor, King will dive further into this subject during their presentation, "The Retail Innovation Funnel: Uncover 7 Key Traits Of Successful In-Store Innovation." at Retail TouchPoints LIVE! @ RetailX Conference, June 25-26, 2019 in Chicago.