One of the many innovations Apple helped to usher in with the rollout of its Apple Stores was the elimination of standard POS lanes. By arming its store associates with handheld devices equipped with key POS functions, Apple upped the ante on customer service and transaction speed.
Now Apple is making waves once again with the recent introduction of its new EasyPay POS device. While the retailer currently only uses the technology at its own Apple retail stores to streamline POS, the blogosphere is exploding with rumors that Apple may be positioning itself as a player in the POS space, offering the software and hardware to other retailers.
Apple's iPod touch-based system has an integrated hard plastic shell, which houses the iPod touch, and a mag stripe reader for credit cards and a barcode scanner for scanning product information. Credit card transactions are reportedly handled entirely on the EasyPay device, with customers using a stylus to enter their signature electronically on the iPod touch, according to Eric Slivka of MacRumors.com.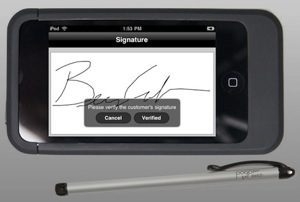 Debit customers need to swipe their cards and enter their PIN numbers at separate terminals located the stores, but the remainder of the checkout process can be handled on the EasyPay.
Cash transactions using the EasyPay device are expected to be rolled out at selected stores over the next six months and will allow sales associates to use the EasyPay system to electronically access any of several cash drawers scattered about the store to complete transactions. iPhone purchasing and activation has also reportedly been integrated into the new system, allowing sales associates to enter customers' calling plan and add-on selections and permit customers to review and sign the terms and conditions required for iPhone purchases.
Apple is said to be considering commercializing the iPod touch-based EasyPay POS system. Since the debut of the iPod POS, inquires have been plentiful among various companies, including end-user small businesses, larger chains and system integrators. Until now, Apple's response has been that the iPod POS is a proprietary product, unavailable for sale, according to ifoAppleStore, the site that shares news and information about Apple's retail stores.
"If Apple jumps on this POS opportunity, it has the potential to shake up the way VARs and MSPs do business in the retail vertical," wrote blogger Dave Courbanou on The VAR Guy blog. "No doubt, POS offerings from companies like Motorola are popular…But when there's an Apple tool in a high-tech arena, it potentially becomes a game-changer. It didn't take long for people to request iPhone compatibility on the enterprise level. Can you imagine a retail store revolutionized by a sleek handheld POS?"
In addition to Apple's own advances in POS, other application developers are also preparing to tap into the features of the iPod touch for retail. Startup company Square, co-founded by Twitter creator Jack Dorsey, is hoping to rollout software and hardware that utilizes the iPod touch for retail and commercial use. Backed by Khosla Ventures, the Square team is focused on bringing immediacy, transparency and approachability to the world of payments. The company's Web site states: "We're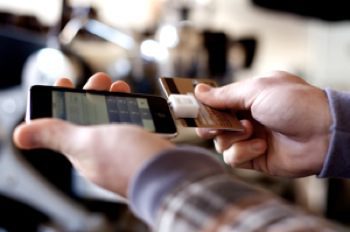 with a limited beta and rolling out to everyone in early 2010."
The San Francisco-based company's technology is designed to accept payment cards immediately without contracts or monthly fees. The software is designed to read payment cards from any device with an audio input jack, including the mobile phone. The technology is designed to enable the payer to have receipts sent to an email or mobile phone instantly and access them securely online. Payers can also use a text message to authorize payments in real-time. Photo verification is used to visually confirm cardholder status.