Looking ahead to one of the most challenging holiday seasons in more than a decade, retailers are taking a harder look at innovative ways to engage the customer and optimize the in-store experience. With retailers striving to up the ante in-store and online, solution providers pushed the envelope by unveiling cutting edge technology at last week's  KioskCom Self Service and Digital Signage Expo in New York's Javits Center.

Interactivity, self-service and streamlining information were some of the key themes at the shows. Innovations at the shelf-edge, new tools to collect and measure customer feedback as well as applications which help retailers engage through their mobile devices were just some of the solutions debuted. Retail TouchPoints walked the aisles of both shows and the following report highlights some of the ground-breaking tools that made waves at the events:
Smart Shelf Technology
Marketing experts emphasize that messaging is more powerful when it's relevant and timely. The folks at Nanonation say Smart Shelves do just that—deliver a message to the consumer at the point of interest to inform and engage. Consumers can pick up a product and be instantly greeted with pertinent information and insights delivered through digital screens and intelligent triggers. The application is dual purpose, as it works to provide employees with timely, consistent and in-depth information to enhance their training and selling ability.

Customer Feedback Management
Cleva Technologies debuted Xit Poll, which is currently deployed in Filene's Basement stores. The solution is a whole new take on exit polling. To help retailers attain valuable and relevant information, the Xit Poll combines a versatile platform with a user-friendly Web-based data management system. The wireless device can be placed in any area of the store, as it gathers real-time data to provide intelligence on each user's shopping experience. In addition to its survey capability, the Xit Poll has an interactive map which enables retailers to manage the device based on geographic location.

Smartphone Integration
Addressing the huge expansion of iPhones and other mobile devices, Intava announced the integration of smartphone technology to marry mobile phones with in-store digital signage to inform and communicate with customers, not only in the in-store environment, but beyond. The integration is designed to offer retailers the opportunity to deliver any in–store interactive system or marketing campaign to a variety of smartphones, including Apple's iPhone. With Intava's new smartphone solution, retailers can create personalized, mobile interactions to be used within the store environment, delivering promotions, marketing messages and product information directly to the mobile phone.
Home Scanner
Retail TouchPoints previously reported on the Ikan grocery scanning device. The company showcased the second generation device, the Ikan v2, which now offers a more compact, touch screen version. Offering consumers a chance for engagement in their own kitchen, the device facilitates shopping list building via the countertop device. Ikan plans to add weekly circular, personalized specials and coupons to the device interface, designed to help retailers drive incremental sales by having these features accessible to the consumer right in their kitchen.

High-Touch Service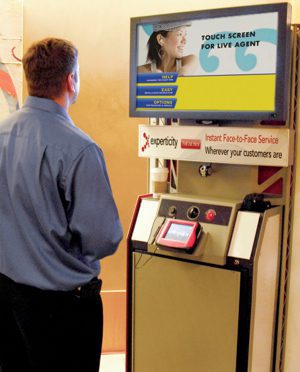 Experticity and NCR announced their partnership to offer a new channel in customer support. The retail-specific solution engages shoppers at the point of purchase with high quality, live video customer support. Rather than having to ask a sales associate for help, or find product information on their own, shoppers can interact with a live person through video. Remote expert service agents– supplied by the retailer, consumer goods manufacturer or a third party– can be accessed by the shopper. NCR's team will now stage, deploy and support the Experticity platform.
TableTop Dining Solution
Casual dining restaurants can address their turnover rates and customer satisfaction initiatives with the first pay-at-the-table & digital promotion solution, from Dallas, TX-based startup TableTop Media. The device is designed to increase table turns by enabling customers to split checks, email and/or print receipts and offer a digital survey at the end of the meal. The device is fully interactive as it provides nutritional information, displays menu options and can be customized appropriately. If a survey shows evidence of a less-than-perfect experience, restaurant managers can be automatically notified to make a visit to the table, increasing customer loyalty. The device also serves as a form of "infotainment," where diners can view movie titles and times, and even purchase tickets.