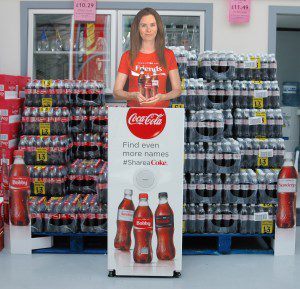 Coca-Cola Enterprises (CCE) is generating buzz for its 2014 "Share a Coke" campaign by implementing the Tensator Virtual Assistant in Dhamecha Cash and Carry wholesalers throughout London, England.
The holographic virtual assistant, named "Isabelle," is designed to engage with consumers entering the stores, educate them on the campaign and play the "Share a Coke" TV advertisement.
"After the success of the 'Share a Coke' campaign last year, we were keen to ensure our customers understand how the campaign can benefit them and how they can get involved," said Simon Miles, Digital Director at CCE. "Digital shopping marketing innovation, such as 'Isabelle,' is a creative and fun way to reach our customers with the campaign and is a piece of genuine digital innovation that we're excited to bring to the market to build on the success of last year's campaign."
As part of the campaign, Isabelle will be stationed in select Dhamecha wholesalers throughout the summer.
This summer, the script on labels of Coca-Cola, Diet Coke and Coca-Cola Zero 500ml and 375ml bottles has been replaced with more than 1,000 of the most popular names in the UK. As a result, the "Share a Coke" campaign has driven a 10% increase in 375ml and 500ml transactions across the Coca-Cola portfolio.