Unwanted catalogs have been the bane of homeowners (and postal carriers) for many years. Heavy, bulky reams of paper that are typically tossed in the trash within minutes of arrival. But the Victoria's Secret catalog somehow managed to survive the trash bin — until now.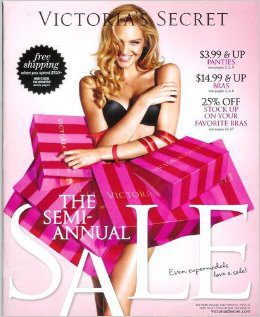 L Brands, the parent company of Victoria's Secret, recently announced it would create three business units: Victoria's Secret Lingerie, Pink and Victoria's Secret Beauty. The goal is to focus on core brands and digital advertisements. Missing from the company's plan: the iconic catalog.
The retailer spends over $100 million a year sending out between 250 million to 300 million copies across the globe, according to estimates from MarketWatch. If the demise of the catalog is true, it would become just another piece of print lore and another nail in the paper-based industry's coffin. In addition to their costs, it's more difficult for brands to target paper catalogs to specific customer groups or individuals, compared to digital forms of marketing and communications.
When a catalog as popular and high-profile as Victoria's Secret expires, it calls into question the overall value of print publications and the inherent costs for any retailer. The immediacy of digital marketing has become the primary vehicle to reach customers. A recent Gartner survey revealed that digital marketing budgets grew 10% in 2015, and that two-thirds of marketers polled expected their budgets to grow.
"We will continue to invest in real estate, store selling and digital enhancements to create an even better shopping experience for our customers," said Stuart Burgdoerfer, Chief Financial Officer of L Brands.
L Brands acquired Victoria's Secret in 1982 for $1 million, according to the company's website. At the time, the brand consisted of six stores and a catalog. Earlier this month, the company announced it would cut 200 home office jobs in Columbus, OH and New York City.