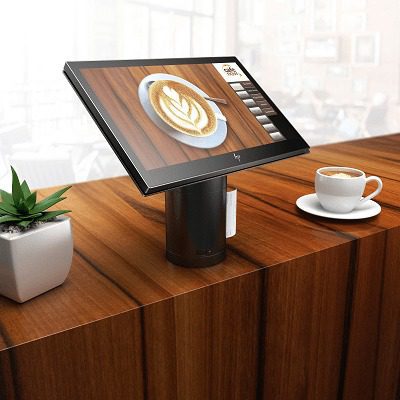 HP has unveiled a new POS solution for retail and hospitality customers, HP ElitePOS. The solution is scheduled to be available this month direct from HP and the company's global network of more than 250,000 partners.
ElitePOS supports use cases designed to make shopping faster and easier for both customers and the sales associates assisting them. These use cases include:
Interactive signage;

Employee attendance; and

Self-service applications such as a customer check-in and access to additional product offerings online.
The POS platform includes an optional receipt printer that integrates into the column stand and an optional magnetic stripe reader built into the display, creating a clean counter space for retail environments. The optional barcode scanner and optional standalone printer match the look of the ElitePOS for a consistent design aesthetic across peripherals.
The display can be separated from the input/output (I/O) base for maximum placement versatility.
With a majority of retail breaches containing data loss caused by POS intrusions, HP is expanding security solutions to the ElitePOS, with both hardware and integrated software security features including:
BIOS-level device security to provide protection in the event of a malware attack with the HP Sure Start Gen3 and HP BIOSphere Gen3 firmware ecosystems; and

User authentication technology, including an optional fingerprint reader for secure login; Credential Guard for secure user authentication and password protection, and Device Guard, which lets IT managers create rules to run only signed, trusted and approved applications on the POS system, to help protect against walk-up and low-level attacks through USB ports.