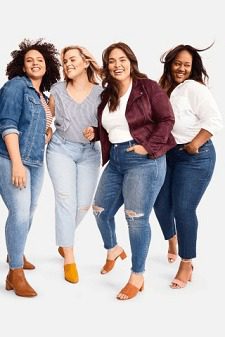 Providing a brick-and-mortar outlet for what had previously only been available online, Old Navy will debut Plus shops in 75 stores. These dedicated departments will be located on the women's floor and feature Plus-specific mannequins, marketing photography and signage. Additionally, Old Navy will offer free shipping for Plus collection items that are ordered online from any store.
Old Navy's specialty Plus collection, which has been available for more than 14 years, is not simply larger sizes of its mainline offerings. The apparel is designed to flatter curves and ensure ease of movement through design and fabric innovation. The design team uses "curve-proud" fit models and considers unique proportions to deliver optimal comfort, hold and fit.
The brand recently launched the "Size YES" campaign to celebrate its inclusive size proposition and desire for everyone to participate in fashion. "Here at Old Navy, we believe in the democracy of style," said Sonia Syngal, Old Navy President and CEO in a statement. "That's why we launched 'Size YES!' this year — because everyone deserves great style in their size whenever, wherever, however they want it."
Many fashion experts have long bemoaned the lack of attractive apparel offerings in plus sizes. The Washington Post ran an article by Project Runway's Tim Gunn in September 2016 headlined: "Designers Refuse To Make Clothes To Fit American Women. It's A Disgrace." When retailers do offer plus-size clothing, it's often sold only online or in a limited number of brick-and-mortar stores.
Old Navy, a division of Gap Inc., operates more than 1,000 stores across the world.