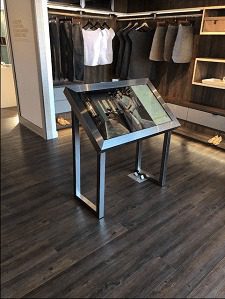 California Closets has been on a mission to create a consistent look for its 150 showrooms located across the country. For most of the retailer's 41 years of operation, its stores have sported very different looks, in part because approximately two thirds of the locations are franchises rather than corporate-owned stores.
The company's other big brick-and-mortar challenge has been finding enough square footage in its stores to show off multiple examples of the retailer's creative, customized closet designs. California Closets offers designs for every room in the house, with a wide range of functionalities, materials and finishes — far more variations than could be shown even in a football-field sized showroom. Larger showrooms can house as many as 10 displays, but the retailer creates customized storage spaces for bedrooms, pantries and garages, so there's a constant fight for space.
In order to "show the depth of what we offer," California Closets has deployed Elo 46-inch endless aisle kiosks in its redesigned "Showroom 2.0" stores, said Lisa Gold, Director of Showroom Design. The interactive touchscreens, which resemble drafting tables, began rolling out in January 2018, and they have been instrumental in the positive results seen at these locations. The retailer aims to have 90% of all its stores, both franchise and corporate-owned, upgraded to the consistent 2.0 look by the end of 2019, with the rest completed in 2020.
"Our 'close rate' among customers that come into the 2.0 stores has been higher, and during the first six months of their operation, job sizes [average order values] increased," said Gold in an interview with Retail TouchPoints.
Interactivity Allows Customers To Explore On Their Own
While the retailer's in-store designers had anticipated using the kiosks alongside shoppers, the application's interactivity and depth of product information enables customers to use them without assistance. "We were a little surprised at how open the customer was to 'playing' with the technology," said Gold. "They wanted to discover on their own and then ask questions of the designers if they have them. It opened up an alternative way of learning about us."
The application provides detailed product information, plus educational content that highlights the company's commitment to sustainability and its manufacturing processes. Other functionalities include designing to a specific budget, and the ability of shoppers to "favorite" a design they like or feel inspired by. "We're capturing leads and information about what they want, but we're also ensuring that they don't have to repeat their story," during a future visit to a showroom, said Gold. Additionally, shoppers can use the touchscreen interface to schedule appointments with designers, either for in-store consultations or in-home visits.
"Our designers call this a lifesaver," said Gold. "If a customer comes into a showroom and doesn't see what they're looking for, they can bring them over to the touchscreen and it shows them beautiful images. Previously designers had to show pictures in the plastic sleeve of a portfolio notebook, and there are just times when that's not enough to show these images in a way that really inspires people, that 'wow' moment. It's an amazing demonstration of what we can do."
In 2017, the retailer began working with CreativeRealities and Elo to develop the kiosks. "They offered a solution that was cost-efficient and had the quality we were looking for — the Elo touchscreen and the customized base," said Angela Nicholson, Director of Digital Marketing at California Closets. "That spoke to the designer aspect of the solution."
The retailer is still planning refinements and additions to the kiosk experience. "We have 'before and after' shots on our web site — images of a chaotic room before, and what we can do to create calm in a person's house," said Gold. "We would like to bring that thought into the newer touchscreens, because we think it will be more fun for the customer. That will be the 2.0 version of Showroom 2.0."
While the kiosk does have self-service functionalities, California Closets still stresses the role of its designers. "We're steeped in service to the customer, and our foundation is to be a design service," said Gold. However, the endless aisle and exploratory elements of the kiosk are delivering benefits that could increase customer lifetime value.
"People at the touchscreens might be looking at just a reach-in closet, but then they start to look at a complete entertainment center," said Gold. "They'll often think beyond what they originally came in for, for other spaces in the house. Hopefully they will come back after their immediate needs are met, and we will have created a lifelong customer."