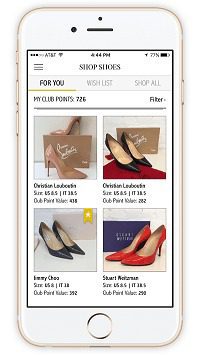 Luxury Shoe Club, a membership club designed for buying and selling pre-owned designer shoes via an iPhone app, kicked off operations July 17. The app uses an algorithm to assign a fair market dollar value to each pair, and women listing their new-in-box and gently worn designer shoes can earn points good for purchasing others' shoes. Members earn half the point value when they list the shoes and get the other half when they are sold; members can also "buy" points. Luxury Shoe Club collects a fee on each transaction.
The U.S. luxury shoe market accounts for $8.6 billion annually, and the average price for a pair of women's designer shoes has climbed to $770. Sales of pre-owned designer shoes have reached $800 million annually, and Luxury Shoe Club estimates that there is $1 billion of new-in-box luxury shoes sitting idle in women's closets.
In addition to creating a secondary shoe marketplace and supplying express shipping and free boxes, Luxury Shoe Club offers personalization services. "When you join, we ask about preferences, brands, styles and colors of the shoes you like," said Scott Van Valkenburgh, Chief Shoe Evangelist and Co-Founder of Luxury Shoe Club. "On the backend, we also quantify members' behavior and refine the data with algorithms so that going forward, we present the styles and brands that you're likely to like more."
The Luxury Shoe Club app has been in beta since February 2018 with approximately 50 users. For the 90 days following the July 17 launch, the Club will "allow members to join and forego their membership fee if they list a certain number of shoes within seven days," Van Valkenburgh said in an interview with Retail TouchPoints.
Consumers have three membership levels to choose from: "Intrigued" ($49 per year), "Passionate" ($99 per year) or "Obsessed" ($149 per year).
What Is A Pair Of Christian Louboutins Worth?
One of the biggest challenges the Club faced was creating a solution for determining the fair market value of designer shoes. "It's not like there's a Kelly Blue Book for Christian Louboutins," said Van Valkenburgh. "We scraped data from over 100,000 pre-owned designer shoes listed on the web. We had to take all that unstructured data and classify it in terms of brand, style and the condition of the shoes in order to tell people the fair market value. Some people were upset that they had paid so much money originally, and we're telling them the shoes are actually worth a lot less."
Luxury Shoe Club also wants to help people get more wear out of their shoes via certified high-end shoe repair. "We partnered with Christian Louboutin and Jimmy Choo to find certified cobblers that would use the right leather and tools to repair these shoes, and we're offering home pickup and delivery for members using these services," said Van Valkenburgh. "The whole club is about continuing to bring services to people."
Key goals for Luxury Shoe Club include ensuring the user experience is positive and building up its membership. "We want to show off our listings and show that our members are buying and trading shoes, and then it's about having the right inventory up there," said Van Valkenburgh. "After that we'll look at building the app for Android devices."
Additionally, the Club donates a percentage of its membership profits to charities such as Dress for Success, which provides high-quality, stylish apparel to people who are not able to afford it. This type of "Shoelanthropy" is part of the Club's motto: Look Good, Feel Good, Do Good. "We want to give women who don't have the opportunity a better chance to get back on their feet," said Van Valkenburgh.