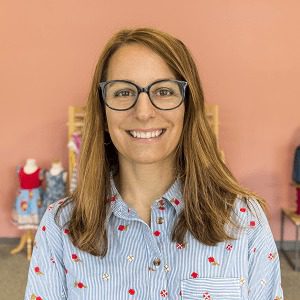 Two of the most important areas of responsibility at any retail company are Marketing and Merchandising, but at Matilda Jane Clothing they are handled by one hard-working executive: Chief Marketing and Merchandising Officer Allison Flatjord. At another company, this might be a tale of competing priorities and siloed departments, but that's not the case here. Matilda Jane bridges the gap by maintaining an unrelenting focus on its customers and a commitment to a unified brand message.
"Our whole brand revolves around storytelling," said Flatjord. "Every season we tell a different story, and in order to effectively tell those stories, we have to be really tight on marketing and product — everything that supports that story. So, for us it makes much more sense to have marketing and merchandising combined, to ensure the product supports the story you want to get across."
Matilda Jane Clothing sells girls' and women's apparel through a unique business model featuring a network of 1,700 "Trunk Keepers," who host in-home trunk shows or facilitate online customer orders. In 2017, the Trunk Keepers held 70,000 shows in all 50 states. While the privately held company does not release specific sales figures, the company is on a growth path, according to Flatjord: "Since I started [in January 2014] we have three times the number of Trunk Keepers, and we've moved offices twice because we've outgrown the old ones. People have really responded to our brands, and feel emotionally connected to Matilda Jane even as we grow. That's part of the storytelling and the personal connection that the Trunk Keepers provide."
In an exclusive interview with Retail TouchPoints, Flatjord explained that listening closely to both Trunk Keepers and customers informs brand and product development at Matilda Jane, as well as how the company integrates a multi-tier commitment to charitable giving into its business operations.
Retail TouchPoints (RTP): How important is customer feedback at Matilda Jane Clothing, and how has it influenced business decisions?
Allison Flatjord: Customer feedback is huge for us. I spent my first year or two on social media listening to what customers were saying, interacting with customers and going to trunk shows, and we still make a point to do that as a company. From both the customers and the Trunk Keepers, what we hear is always top-of-mind — for example the launch of our tween line, with clothing in girls' sizes 8 to 16. We were hearing from parents that when their girls get into junior high school, they don't want to wear the same clothes as their four-year-old sister. That inspired us to launch an entire brand, the 435 brand of age-appropriate tween clothing.
Another element was being very inclusive with our sizing. Our women's line goes from extra-small to 2XL, and we're launching a petite line in the fall. Matilda Jane is for everybody, and what we heard from our Trunk Keepers, 100% of whom are women, inspired us to expand our size ranges.
In fact, the Trunk Keeper feedback is really helpful to ensure we're able to clearly bring our brand story across at the trunk shows. The Trunk Keepers act as our stores and they are also really personal stylists, helping customers pick things out and really getting to know them well.
RTP: What are some of your biggest challenges at Matilda Jane?
Flatjord: Speed to market is a big one. We launch 10 collections a year and use original prints in all of them. With the number of collections we do, and with making sure the story is really tight with all them of them, and that the collection works well together — it's a challenge to be that nimble but still take the great care that we do with product, designs and marketing.
RTP: Your professional background includes working at some fairly traditional companies such as Procter & Gamble and Limited Brands. What are some of the differences in working at Matilda Jane? Did it require a lot of adjustment?
Flatjord: I would say this is the most collaborative place that I've worked, both in terms of the processes and the people. The organizational structure is different from those companies, but the very tight focus on the customer and our creative goals really makes it work for us.
RTP: Who have been some of your mentors, either personally or professionally?
Flatjord: On the personal side there's my dad. Some of his "dad-isms" were "Never take the easy way out," and "Always make sure you can take care of yourself." He was always encouraging me to take the harder class or the more challenging job, and those have been driving forces for me about working really hard and not shying away from challenges.
Additionally there's the founder of Matilda Jane, the late Denise DeMarchis. I worked with her for about a year, and she truly kept the Matilda Jane customers and the mission ahead of everything else with a fervor that I've never seen. That encompassed our mission of giving back, even if it required a lot of personal sacrifice.
RTP: How does the commitment to charitable giving intersect with the business aspect of the company today?
Flatjord: We give on three main levels. At the corporate level, we're the diamond partner for Changing The Face Of Beauty, which inspires inclusion in advertising so that all children are represented in any kind of commercial images. When kids are able to see themselves in popular advertising, that fits with our mission of girls feeling great about themselves, as well as keeping kids little and including everybody in the joy of being a kid.
There's also the Mighty Acorn Foundation, which Denise had originally worked on setting up in 2012. It's an orphanage in Kitale, Kenya that helps rescue children there from the slums.
On a more local level, there's our Janes Give Back program. Janes are what we call our party hostesses. Either a Trunk Keeper or a Jane can match a portion of a show's proceeds to donate to any organization or cause that's important to them. They've donated to schools, to put in an elevator for a child with disabilities who previously had to go outside in her wheelchair at the time classes changed. We've supported funds for adoption. Overall, we've raised more than $330,000 for 1,000+ organizations. That's the grass-roots part that Denise started, and it's been kept up through the Trunk Keepers.