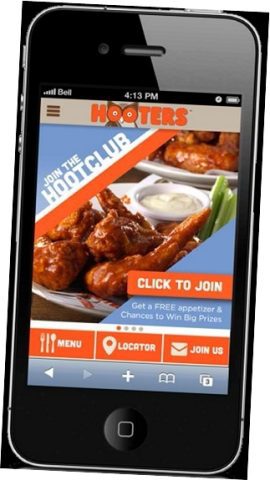 Up to 80% of U.S. consumers say they are more likely to become loyal to retailers that provide a seamless shopping experience across channels, according to research from Corra.
Retailers are taking note of this trend by revising one of their most beloved marketing tactics — the loyalty program — and making it more integral to the entire omnichannel customer experience. For example, Hooters of America, LLC, has launched a new loyalty program and promotions strategy to drive ongoing engagement and purchases across nearly 400 locations. The restaurant chain partnered with Sparkfly to streamline the capabilities of the new HootClub loyalty program.
Using the Sparkfly technology, Hooters will be able to collect detailed transaction data, including basket size, average spend, frequency of redemptions, purchase history and more. This data will be used to tailor individual offers and rewards to guest preferences. Hooters then will be able to track redemption rates and determine the overall effectiveness of offers across different media channels.
Hooters currently is testing the omnichannel loyalty program in the Atlanta area, and plans to expand it to more than 200 locations within the next 90 days. Eventually, Hooters plans to reach all 345 domestic restaurants.
The HootClub program is the first comprehensive digital customer loyalty initiative from Hooters, according to Chris Duncan, Chief Information Officer at Hooters of America. At the center of the initiative is the HootClub mobile app, which allows guests to track and activate rewards tailored to their personal preferences. The app is available for Android and iOS devices.
"Not only does the program benefit Hooters customers, but from a brand marketing perspective HootClub also allows Hooters to personalize its communications with guests and deliver relevant offers," said Duncan in an interview with Retail TouchPoints. "Hooters is aware that an ever-growing number of consumers are adopting mobile to engage with brands. A big part of the new program's strategy is to cater towards this trend by developing the HootClub mobile app, but we wanted to take a comprehensive marketing approach to ensure the brand could connect personally with its customers regardless of their platform choice."
HootClub customers can redeem their personalized coupons and deals across a variety of media, including mobile, the web, email and print. Users can elevate their HootClub status level from Bronze, Silver or Gold up to Orange, and keep up with other loyalty members by tracking the top-10 leaderboard scores within the app.
Email information is captured upon initial registration and each time a coupon is redeemed. All redemptions are tracked in real time and activated in-store. Consumers also can redeem offers by tapping the HootClub app via their mobile device or the web browser and entering a code found on their receipts.
"The program keeps a record of each purchase and the more often guests visit Hooters, the more points they earn to be entered into exciting Hooters sweepstakes and receive offers and rewards," Duncan explained.
The Sparkfly platform integrates with more than 20 POS systems. Because Hooters restaurants are operated by individual franchisees, multiple systems are being used, including Radiant/Aloha, POSitouch, MICROS and a custom point of sale system developed internally, ITWercs. "No matter which POS system is being used, our new technology allows us to talk to our franchisee sales system through the new interface," According to Duncan.
Testing And Learning
Before the new program rolls out to the entire Hooters marketplace, it will be evaluated in the initial test market. "With Atlanta as our test market, we have surveys and studies in progress with managers and employees so the process is crystal-clear when relayed to the customers," Duncan said. "There is a registration link on the Hooters homepage and we will encourage engagement through social channels and by communicating to our existing database of preferred customers."
Results from the Atlanta rollout also will determine if any improvements need to be made, Duncan noted. "Eventually customers will see more features being added to our comprehensive loyalty program. For example, HootClub might offer the ability for customers to order food online or to look up nutritional information."
As the loyalty program is implemented in other locations, Duncan expects that it will have "incredible potential to increase guest traffic. The more insight we get into our customers' preferences and the more comfortable they become with the program, we are confident that the rewards system will really change the way our customer view us. Guests will utilize our loyalty program to show their love for our brand, our food and our concept. We will no longer simply be a restaurant they like to visit, but our overall dining experience will become more integrated into their lifestyle."