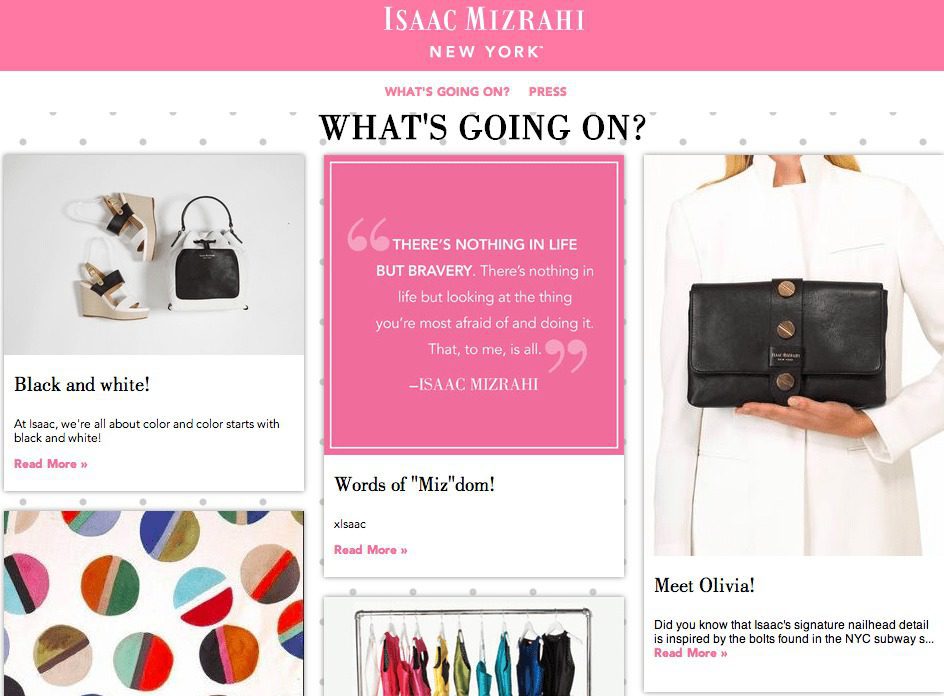 If you have seen an episode of "Project Runway," or have caught a few segments on QVC, you are probably familiar with Isaac Mizrahi.
Over the past 30 years, Mizrahi has been a key player in the fashion world and in recent years has focused on democratizing fashion. Offering a variety of contemporary pieces at a variety of price points, Mizrahi has gone to market with Isaac Mizrahi New York by hosting a special on QVC, called Isaac Mizrahi Live!
Now, Xcel Brands, which manages the branding, marketing and retail sales for Isaac Mizrahi New York, Liz Claiborne New York and Judith Ripka, has launched a new e-Commerce site designed to bridge the gap between the fashion guru's television presence and growing online business.
"Before you think about Isaac Mizrahi, you have to step back and look at Xcel Brands' overall strategy," said Robert D'Loren, CEO of Xcel Brands, in an interview with Retail TouchPoints. "First and foremost, our strategy with our brands is to be 'total omnichannel.'"
However, it is important to not confuse "total omnichannel" and just "omnichannel," D'Loren advised. "Total omnichannel," encompasses the store, the web and television, which he considers the most under-tapped channel in the media and retail worlds.
"Some companies are pushing hard to establish a brand point of view across online and brick-and-mortar, where there's a single experience for the brand," D'Loren said. "But there's a third channel involved: TV."
The concept of shopping on TV and online is not going away, D'Loren noted. If anything, it's growing at a rapid pace. Within the next few years, the two channels "will converge into interactive TV."
The new Isaac Mizrahi New York site is expected to facilitate this convergence, and encourage customers to stay engaged with the brand as they hop from the TV to their desktop/laptop and even their mobile devices.
"Isaac Mizrahi is on QVC for two hours on Monday and Friday, with more than two million women engaging with him in their living rooms during each show," D'Loren said. "Within minutes of him announcing the new site, we had 1,000 visitors. That's the power of TV."
Featuring an array of products, including women's sportswear, dresses, footwear, handbags, eyewear, watches, tech accessories and fragrances, the site promotes all key items in a multitude of colors and styles.
The e-Commerce site also encompasses all things related to the world of Isaac Mizrahi. Images of products, inspirational films and even quotes from the designer himself are plastered on the site page in a tiled fashion, similar to Pinterest. Social media posts also will be consolidated on the site.
Creating A Joyful Experience
The web site uses bright colors and patterns to break up images of Isaac Mizrahi New York stores and products. Creating a joyful experience was the core of the web site design and content strategy because "Isaac has done just that through creative expression," according to D'Loren.
"If you watch him on QVC, the reason we have the No. 1 show on the network is Isaac," D'Loren said. "He's fun to watch. That's the strategy and it's not that complicated. We try to approach the site from that perspective. Not to make it too busy or overcomplicated; just keep it easy and joyful for our customers to get to the site, transact and engage with us."
In Fall 2014, the web site will tout an Isaac Mizrahi lifestyle blog and more product lines, including cashmere sweaters, silk dresses, tailored blouses and denim.
Building up an arsenal of compelling behind-the-scenes content also is in the next phase of perfecting the online shopping experience.
"There is much more content to come from Isaac," D'Loren confirmed. "We want to bring followers behind the velvet rope so they can see what inspires him and what happens behind the scenes."
In fact, the goal moving forward is to "keep creating content until there's no more content to create," D'Loren stated. "We want to keep it raw and keep it real."