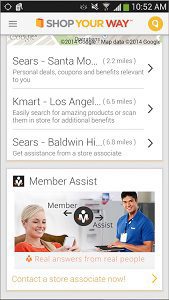 Only 7% of consumers are extremely satisfied with the customer service brands are providing across channels, according to research from Zendesk.
With 60% of all transactions spanning across multiple channels, Sears Holdings is offering a variety of new tools and solutions to improve customer service interactions.
"Our strongest asset is the expertise of the thousands of associates regarding product-related questions," said Leena Munjal, SVP of Member Experience and Integrated Retail for Sears Holdings. "They answer questions every day but they're limited to a particular store. So we asked: 'What can we do to open up the doors of all our Sears stores so customers can broadcast their questions to everyone who works in any of our stores?"
The answer to this question is the Get Advice and Member Assist tools. These are new components of the Shop Your Way experience that provide customers with more detailed, real-time access to product information, advice and feedback.
Offering access to trusted information and feedback from customers and associates nationwide, Get Advice allows consumers to view product and category feedback from store associates at home or remotely. Members of the Shop Your Way community also can participate in conversations, offering their feedback on specific products and questions.
"We have a vast Shop Your Way member community online," explained Munjal, in an interview with Retail TouchPoints. "They may not be associates working in a store, but if they own a product someone has a question about, they have a point of view." With Get Advice, Sears has the ability to "tap into the knowledge base of members who already own a product."
The Member Assist tool offers a more personalized service experience, enabling consumers to communicate directly with their preferred store associate through the Shop Your Way mobile app or web site. Associates respond directly to all questions and inquiries.
"In this day and age where everything is connected, the physical location of where you live doesn't matter that much," Munjal noted. "So when you need help, you have access to either our call center or the entire Shop Your Way community."
All marketing and service strategies are designed with Shop Your Way members in mind, Munjal explained. For the full year 2013, 69% of total Sears Full-line and Kmart sales derived from Shop Your Way members, up from 59% in 2012.
An Extensive Service Ecosystem
The Get Advice and Member Assist tools add to the extensive service ecosystem established by Sears Holdings.
In addition to its 2,000 Sears and Kmart stores, Sears Holdings also drives a billion mobile and web visits across both brands, and has built a significant call center operation that consists of up to 70 million interactions a year.
However, the retailer doesn't see these service channels as siloed touch points. They all integrated as part of a cohesive brand experience.
"We don't look at our assets as in-store and online," Munjal said. "It's about what happens when you put the store, mobile, online and a very robust supply chain together. It's about how powerful it all can be when it comes to providing a convenient experience to our customers."
View the video below to see how the new features work: