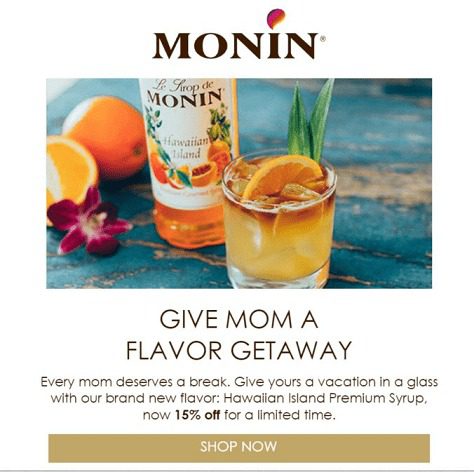 With very distinct differences between its B2B and B2C customers, France-based gourmet flavor and syrup manufacturer Monin faced a pressing need to segment its email marketing campaigns to provide the most relevant, engaging content to potential buyers.
In just one year since Monin implemented the dotmailer email marketing platform, the brand achieved the following results:
20% higher conversion rates;

20% more email-driven transactions;

Monthly revenue spikes as high as 25% following successful campaigns; and

10% more email-driven revenue.
The brand also expects to send more than 2.5 million promotional, automated and transactional emails to 70,000+ customers in 2017, more than doubling the number of messages sent in 2016.
Of Monin's two target audiences, the brand's B2B customers make up approximately 97%-98% of Monin's business. These buyers largely consist of large national accounts such as CPG distributors and restaurants. B2C "home" customers make up the remaining 2%-3% and often consist of bartenders, working mothers or coffee shop owners purchasing products directly through the e-Commerce site.
"The café owner in Seattle may want a case of our vanilla syrup, but the mom of two doesn't want a case," said Stasha Johnston, Digital Marketing Director for Monin. "When we send out recipes on how to use the vanilla flavor and make a quick vanilla iced coffee in two minutes at your house, we're going to send that message to the mom of two."
Segmenting To Create Themed Campaigns
Monin segments its emails by factors such as prior purchase patterns and customer engagement habits, to identify the correct kind of shoppers they're targeting and to discover where they are in the buyer journey. With dotmailer, the brand can gather data to understand more about its audience; to differentiate between the needs of an SMB owner and a home user; and to cater content in the appropriate direction.
"In this space and in e-Commerce, it's important for us to identify and know who our customers are," said Johnston. "We almost have to look at it in a hierarchy. We can't look at our consumers as solely B2B or solely B2C. We have so many different types of customers on different plotted points on a graph. They're in so many different stages of life and professions that we have to figure out who would respond to the different messages, when they would respond to those messages, and what type of messages relate to different people."
Dotmailer has provided Monin with the analytics needed to determine when to launch specific campaigns, such as "Monin Mondays." Data from the platform revealed that the most sluggish sales day was often a Monday. In response, the brand introduced a surprise 15% discount code and a call-to-action within a typical Monday email campaign, and saw a 400% increase in sales.
In another example, Monin timed the "DIY Island Drinks for Mom" campaign with Mother's Day in May 2016 and drove nearly 40% of its annual email revenue in one month alone (a 20% increase from the previous year).
"We map our marketing calendar out for the full year based on the competitive marketplace, past performance, industry trends and our corresponding product launches," Johnston noted. "We know that iced coffee is obviously popular right now. We also know that pumpkin spice is popular in August and September, so there's key time frames based on seasonality and other factors that help us decide what content we're going to deliver and when we're going to deliver it."
In understanding purchasing patterns, the brand also can send out reminder emails and coupons to save customers, or perhaps drive another sale.
"We send an email to her three months after she buys vanilla syrup, that says, 'Hey, Susie, it's time for you to buy more vanilla,'" said Johnston. "'Here's a coupon for 10% off.' We're helping the customer down that journey. Although syrup isn't top-of-mind to the consumer yet, we're making our brand top-of-mind."