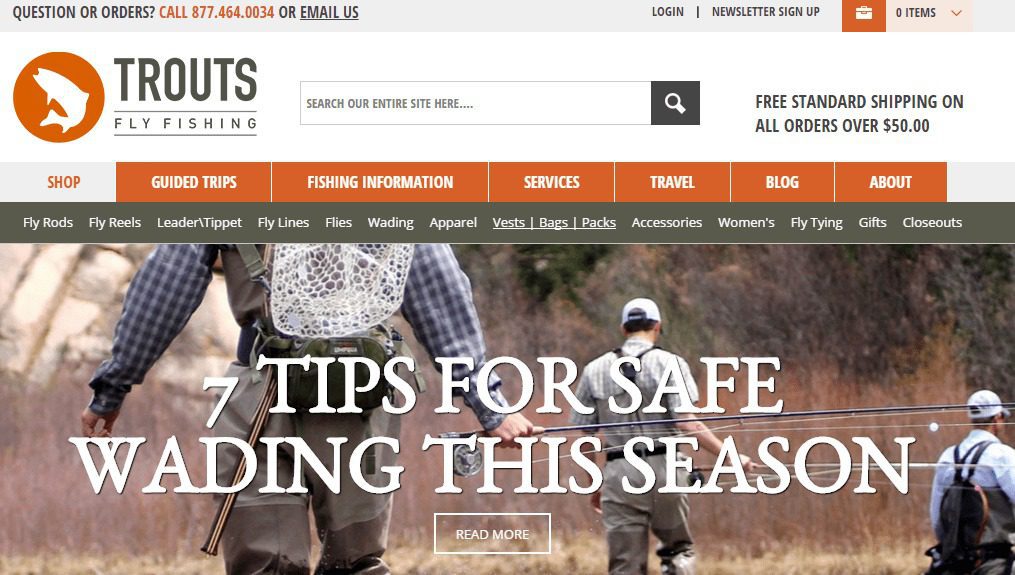 As retail businesses grow, it is common for internal systems to become more complex and for business departments to become siloed. However, it is imperative that retailers break down these barriers to ensure success in the current omnichannel climate.
Trouts Fly Fishing, a Denver-based specialty retailer of fly fishing gear, started out as a standalone brick-and-mortar shop. But by working with nChannel, the retailer has been able to connect its store systems with its e-Commerce site. This ensures a seamless and consistent experience as its online business grows. Since implementing the nChannel system, Trouts Fly Fishing revenue has increased steadily by 20% to 50% year over year.
When the Trouts Fly Fishing web site launched eight years ago, it acted as a content-based hub for fly fishing enthusiasts, according to Kevin Cooke, e-Commerce Manager for the retailer. "But we quickly realized that people from across the country wanted the ability to purchase items and gear directly from our store."
In order to streamline pricing and inventory across all channels, Trouts Fly Fishing onboarded nChannel in 2013.
"We found ourselves dealing with out-of-sync inventory on our web site, so the customer experience wasn't always as strong as we wanted it to be," Cooke said in an interview with Retail TouchPoints. "And oftentimes, we weren't able to answer our shoppers' questions about products well or fast. We were in a very reactive mode when it came to inventory management."
Now, Trouts Fly Fishing manages 5,000 products with more than 10,000 SKUs from its POS, Magento-based web site, as well as Amazon and eBay portals, Cooke explained. "Maintaining a system that tracks everything well is critical. We now have much better visibility into inventory and as a result, we're delivering faster service, instant product availability, same-day shipping, and high-speed data."
And the nChannel system is going to empower Trouts Fly Fishing as its business expands and evolves. The retailer plans to take its e-Commerce site to consumers worldwide, and it also intends to open up to two more brick-and-mortar locations by the end of 2016, Cooke reported. Now, "nChannel is a key ingredient for a recipe that helps us to continue to master the customer experience for our shoppers."