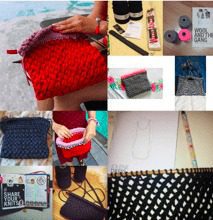 Consumers are increasingly referring to content generated by their peers to find shopping inspiration. In fact, shoppers find user-generated content 20% more influential on purchases and 35% more memorable than other types of media, according to research from Crowdtap and Ipsos.
Brands such as Wool and the Gang thrive on community interaction. In fact, the entire Wool and the Gang business was crafted with interpersonal communication and the "maker movement" in mind. The site offers a vast collection of knitwear for women, men, children and infants.
"Our community is central to our business," said Ashleigh Tennent, Product and Customer Experience Director at Wool and the Gang. "It's where we engage and communicate with our fans, find new knitter recruits and future 'Gangstas.'"
Wool and the Gang taps into a group of knitters around the world who design, hand knit and sell the retailer's collection online. All pieces also are available to purchase as "Knit Kits," so consumers can create their own pieces.
Wool and the Gang fans and followers on Instagram, Facebook, Pinterest, Twitter and Tumblr are always sharing knitting tips and images of their new creations on social media. These images, according to Tennant, are "key to selling the Wool and the Gang dream, showcasing our products and Gang activity. Our Gang community has a strong sense of pride when they achieve new stitches and create beautiful knitwear, so they actively share their progress with us and the wider community."
To extend its active social community to the e-Commerce site, Wool and the Gang implemented Olapic, which enables retailers to aggregate, track and republish user-generated content on product pages.
Customers who engage with community images are six-times more likely to purchase than those who do not, Tennant reported. "People love to feel like they're part of something bigger and are inspired to see real people, just like them, wearing, styling and knitting with Wool and the Gang."
Consumers are encouraged to share images of their purchases using the hash tag #shareyourknits, which they can use on any social channel. Once Wool and the Gang team members authorize images within the dashboard, they are published alongside model images on e-Commerce pages, which showcase different ways to wear items or knitting color combinations that are available.
"Our Gangstas are delighted and super proud to have their photos used and it often prompts them to do further shout outs on social to tell their friends that Wool and the Gang has featured them," Tennant said. "If you have a tight-knit community as we do, they all feel part of it and customers are truly excited to contribute."
Olapic as empowered Wool and the Gang to expand its vibrant community, and encourage customers to learn more about the brand and its story.
"We felt that we had this really active community across all of our social channels, but our site didn't showcase that," Tennant said. "We knew that as soon as people saw how fun our community could be they immediately wanted to join and be a part of it. It was a missed opportunity to keep our social channels and our site separate."