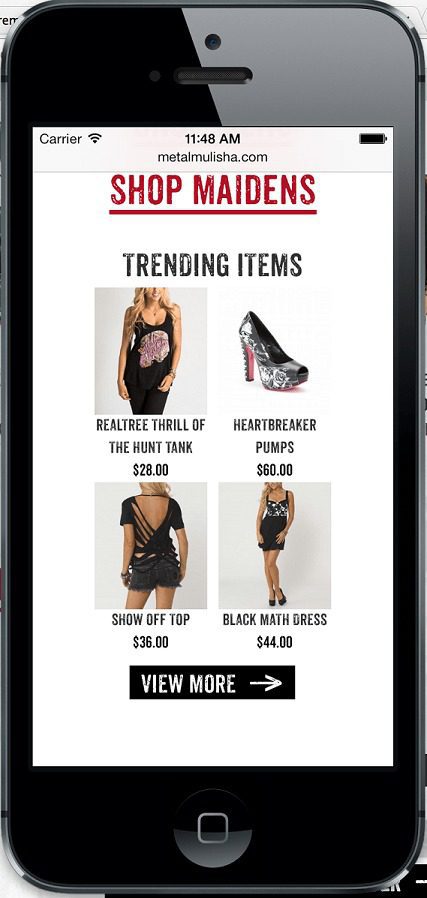 Mobile users expect their shopping experience to be seamless, compelling and catered specifically to their wants and needs. Without a great experience, consumers may find browsing and buying on a mobile phone to be tedious and frustrating.
Reflektion, a provider of e-Commerce personalization solutions, has extended its platform to mobile devices to help retailers create more relevant shopping experiences. Using predictive analytics, retailers can identify shoppers based on the device they're using, as well as their past and present browsing behaviors, and personalize product assortments and recommendations.
The solution incorporates responsive web design so a web site can fit the screen size of a smartphone or tablet. When a consumer logs onto an e-Commerce site, Reflektion is able to capture that data, recognize the device being used and create an optimal viewing experience.
One Reflektion customer, the La Jolla Group's Metal Mulisha, is seeing the benefits of the mobile optimization feature. With Reflektion, Metal Mulisha increased web site conversion rate by 67% in eight weeks, and revenue increased by 35% for smartphones and 25% for tablets in 30 days.
"Most of our shoppers these days are using smartphones and tablets to discover products, so we needed a solution that could provide an outstanding and personalized mobile e-Commerce experience," said Ryan Cropley, Director of e-Commerce at Metal Mulisha. "After deploying Reflektion, we were able to identify and then tailor the user experience to each customer. By personalizing the experience, we were able to drive up mobile revenue almost 20% and dramatically increase mobile page views."