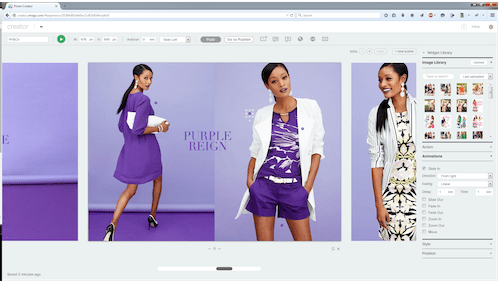 In an effort to differentiate in the increasingly competitive e-Commerce world, brands and retailers are focused on creating attention-grabbing content and memorable digital experiences. However, planning, creating and rolling out this content can take up to months.
Zmags has launched Creator, a content platform designed to help retailers build digital experiences on a live web site without complex coding and IT intervention. Creator includes drag-and-drop tools, asset libraries and widgets, and is designed to reduce the time and complexity needed to publish e-Commerce content.
Retailers such as Brahmin, Neiman Marcus and New York & Company have implemented Creator, and early adopters have seen a double-digital boost in conversions.
"Creator has made me rethink how I design and create content for the web," said Paul S. Carroll, VP of Digital and E-Commerce Creative at New York & Company. "It's amazing — like taking a straightjacket off. User engagement has been comparable to some of the biggest weekends in the retail calendar."