Following is an exclusive article that shares highlights from a keynote presentation Eisenberg will deliver during the Retail Innovation Conference, May 8-10, 2017 in New York City.
What if you entered a drawing to spend a day with the earth's second richest man? He would share how he has grown his company to achieve 43% of all e-Commerce sales in the U.S. He would share insights on growing one of the fastest B2B businesses to achieve $10 billion in sales. Or even how he turned a failing newspaper into a profitable entity. Can you believe that this is the same guy who people were laughing at two decades ago? It took him more than 60 meetings just to raise one million dollars for Amazon.com.
Sorry to disappoint you, the drawing to spend a day with Bezos is not an option. Yet you can still benefit from his wisdom. In 1997, you needed to take a HUGE leap of faith to believe Amazon would be as successful as they are today. Today, Amazon's approach stands as a lesson to all companies, not only Internet companies. It applies to the Fortune 50 and even to a lemonade stand. In his 1997 letter to shareholders Bezos stressed the key point to long-term success: to think long-term:
"We will continue to make investment decisions in light of long-term market leadership considerations rather than short-term profitability considerations or short-term Wall Street reactions."
You will notice his use of "Day 1" in 1997 and again in this year's shareholder letter to speak about urgency and the need for corporate agility.
"I work in an Amazon building named Day 1, and when I moved buildings, I took the name with me. I spend time thinking about this topic.
"Day 2 is stasis. Followed by irrelevance. Followed by excruciating, painful decline. Followed by death. And that is why it is always Day 1."
Bezos focused on two of the four pillars I use to describe Amazon's success that any business can use.
1. Customer Focused
"There are many ways to center a business. You can be competitor focused, you can be product focused, you can be technology focused, you can be business model focused, and there are more. But in my view, obsessive customer focus is by far the most protective of Day 1 vitality."
2. Corporate Agility
"To keep the energy and dynamism of Day 1, you have to somehow make high-quality, high-velocity decisions. Easy for start-ups and very challenging for large organizations. The senior team at Amazon is determined to keep our decision-making velocity high. Speed matters in business — plus a high-velocity decision-making environment is more fun too."
In his 2014 letter Bezos focused on the other two pillars:
3. Continuous Improvement
"We have our own internal experimentation platform called 'Weblab' that we use to evaluate improvements to our websites and products. In 2013, we ran 1,976 Weblabs worldwide, up from 1,092 in 2012, and 546 in 2011."
4. Culture Of Innovation
"Amazonians around the world are polishing products and services to a degree that is beyond what's expected or required, taking the long view, reinventing normal, and getting customers to say 'Wow.'"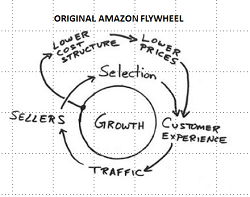 Every year for the past two decades Jeff Bezos has offered us a glimpse into his Amazon playbook. He refers to this as the Amazon Flywheel. This flywheel concept that he borrowed from strategy guru Jim Collins has some unique aspects applicable to Amazon and Amazon alone. Amazon's growth is all tied to taking the long-term view, obsessing over the customer experience to get them to say "wow." As that initial push gains momentum, the four pillars accelerate the growth.
Today is your Day 1. You need your own flywheel. One based on the same four pillars that Jeff Bezos has been sharing with us for over two decades. I am excited to share with you how you can Be Like Amazon, because even a lemonade stand can do it. On May 9th, at the Retail Innovation Conference, I will open with a keynote, titled: "Winning With Pages From Amazon's Playbook," so that you too can develop your own four-pillar success playbook and understand your flywheel.
Bryan Eisenberg is the Co-Founder of BuyerLegends. He is the co-author of the Wall Street Journal, Business Week, USA Today and New York Times bestselling books "Call to Action," "Waiting For Your Cat to Bark?," "Always Be Testing" and "Buyer Legends." Eisenberg is a professional marketing keynote speaker who has been the keynote speaker for corporate events and conferences such as Gultaggen, Shop.org, Direct Marketing Association, DreamForce, E-consultancy, Emerce, and the Canadian Marketing Association. He also is the co-founder and Chairman Emeritus of the Web Analytics Association (now the Digital Analytics Association).