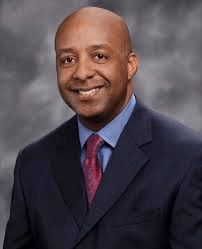 After officially stepping into the challenging role of JCPenney CEO in August 2015, Marvin Ellison is poised to bring success and renewal to the iconic retail brand. Ellison previously spent 12 years at Home Depot and 15 years at Target. He accepted the JCPenney position one year ago, in October 2014, following a tumultuous few years at the company.
Ellison has a big hill to climb at JCPenney. In 2011, former Apple executive Ron Johnson took over and initiated a failed attempt to completely transform the company's brand image, then Mike Ullman returned to the company to try to turn the tide. Ullman is now serving as the Executive Chairman of the Board for one year.
JCPenney had a cumulative net loss of $1.6 billion, a $3 billion cash drain, and a market cap drop of $4 billion (a 56% loss) during the past several years, Ellison noted during a presentation at the Texas A&M Retailing Summit in Dallas yesterday. During his presentation, Ellison also shared his plans for helping the company reach the target of $1.2 billion in profitability: "We have already started to reverse some of the damage that was done."
A Keen Focus On The Stores
Because, Ellison stated, "It all happens in the store," he has directed every member of the leadership team to visit a store at least once a week. In fact, Ellison spent part of his last Thanksgiving holiday in the store visiting and talking with the employees. "My greatest pleasant surprise was about one year ago when I went to the stores on Thanksgiving Day and discovered associates who were passionate and excited." Under recent circumstances, he said he was expecting the employees to be unhappy and angry, but that was not the case.
Ellison is banking on "Success Through Simplicity" — bridging the gap between the art and science of retail — to help return profitability to the company. While JCPenney has been good at the art, he stated, it has lagged in the science department. To that end, Ellison has helped bring aboard a new executive team including a new CMO, Head of Omnichannel, Head of Supply Chain, Head of Credit and Head of Customer Data & Analysis.
Customer Loyalty Is Key
It's no secret that under Johnson's reign JCPenney lost the faith of its longtime loyal customers. Ellison compared the initiatives at the time to a high school student pushing aside his current girlfriend to try to get a date with the Homecoming Queen.
Ellison is rebuilding the brand on a customer loyalty foundation and three strategic goals:
Omnichannel;
Private Brands; and
Revenue Per Customer.
In constructing this plan, Ellison dusted off his copy of the Jim Collins book, Good To Great, which asked three questions:
What are you deeply passionate about?
What can you be best at?
What drives your economic engine?
Keeping It Simple While Pursuing Omnichannel Success
With "Omnichannel" as one of the key foundational goals at the revived JCPenney, Ellison explained his definition of the term: "Creating a seamless connection between the customer and the transaction."
To achieve that goal, Ellison explained, "We are working to simplify the experience, for example, by limiting the number of clicks it takes online to complete a transaction. We're also working to eliminate the frustration when buying online and picking up in-store."
While working on the science of creating a seamless omnichannel experience at JCPenney, Ellison is not ignoring the small details of the art of retail. For example, each online order that is picked up in-store includes a personal handwritten note from the store manager.
JCPenney also will maintain a focus on social responsibility and philanthropy, but will realign objectives in 2016. "We want to make sure our philanthropic focus is not spread so wide that we dilute what we stand for as a company from a brand perspective," Ellison noted. "We will accommodate and support all commitments for 2015."
It seems that in some way Ellison is taking to the road, and the speaker podium, to personally deliver the turnaround that JCPenney so desperately needs, so expect to hear more from him as the struggle continues.