On the heels of an exceptional Q4, beauty and cosmetics retailer Ulta Salon continues to buck recent retail trends. At a time when some big-name retailers are shuttering underperforming stores or even declaring bankruptcy, the country's largest cosmetics seller is planning to get even bigger, and it remains one of the hottest U.S. chains.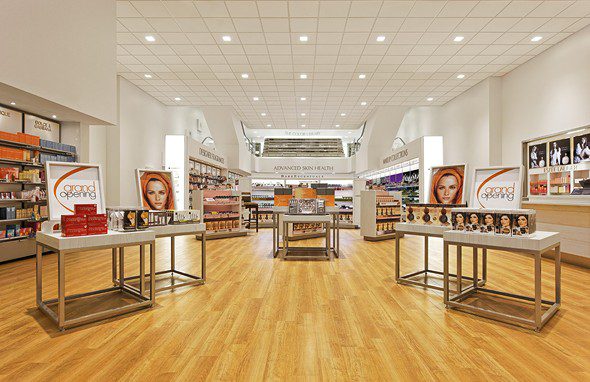 But while Ulta is the definition of a majorly successful niche retailer; how long can its success — or that of any niche retailer — last?
A Sweet Q4 To Make You Blush
The numbers, like true beauty itself, do not lie. In a time where quarterly gains of 5% are considered healthy, Ulta reported a 12.5% same-store lift in Q4. With e-Commerce sales included, the retailer had a total net sales increase of 21.1%, earning $1.2 billion. Q4 e-Commerce sales grew 44.2% year over year to $94.8 million from $65.7 million.
Ulta also saw 19.2% growth in its salon sales to $209.2 million in fiscal 2015, compared to $175.5 million for the previous year. The retailer's clear advantage is in online sales, with annual revenues jumping from approximately $150 million in 2014 to more than $220 million in 2015.
"Our fourth quarter results capped an exceptional year during which we made significant progress against our strategic imperatives, while achieving outstanding sales and earnings growth," said Mary Dillon, CEO of Ulta, in a statement. "We continue to benefit from the powerful combination of strong demand in the beauty category and Ulta Beauty's highly differentiated offering that propels our business to transcend prevailing trends across the retail landscape."
Ulta opened 14 stores in Q4, ending the year with 874 stores, a 13% increase in square footage year over year. Flush with cash, the company said it plans to open 100 new stores and remodel 12 existing stores this year as it aims for a total of 1,200 locations by 2019.
Niche Retailers Benefit From Single-Minded Focus
So what's behind Ulta's strong performance? As with any retail success story, there are multiple factors at work. In a vertical where product selections are often highly personalized, niche retailers have an inherent edge over big-box competitors, because they are able to give customers a unique and focused experience. Ulta focuses on cosmetics and only cosmetics. They are not sandwiched between greeting cards, cheap snack foods or women's sleepwear and men's accessories.
Ulta's continuing success also can be attributed to the following strategies:
Operates in stand-alone, drive-up stores with built-in salons;
Keeps up with trends by stocking popular Korean K-makeup brands; and was the first retail partner for Jessica Alba's Honest Beauty line, valued at $1.7 billion;
Caters to a wide audience, offering affordably priced products, including the namesake brand, in addition to high-end brands; and
Maintains a strong professional division that sells to salons.
Just as important to both its in-store and e-Commerce channels, Ulta has Oracle omnichannel technology in place that combines rich media offerings with product sales: customers can click on products while watching video content and book salon appointments. The ability to provide tips, advice and new ideas to customers has helped the retailer maintain a robust customer loyalty program, with more than 15.5 million members who account for more than 80% of Ulta's revenues.
The Cosmetics Race Is On (And It Won't Be Pretty)
While all of this paints Ulta as the "fairest of them all" in the cosmetics industry, retail's history is full of leaders who eventually fall behind. Other niche verticals, including electronics, grocery and sporting goods, have had their legendary performers. For every Dick's Sporting Goods that is thriving, there is a Sports Authority just about to close its doors.
Obviously, Ulta is not the only cosmetics retailer, and though it remains the market leader for now, the increasing market competition is fierce and unyielding:
Walmart, Walgreens, Target and CVS Pharmacy have upgraded their beauty sections in the last year;
Macy's acquired luxury beauty retailer Bluemercury in March 2015. The Washington D.C.-based seller of high-end makeup, bath products and spa services has more than 70 locations across the nation and plans to open 40 more in 2017;
JCPenney is expanding its partnership with LVMH-owned Sephora, rolling out more than 400 boutiques within its stores. The retailer also is modernizing its 850 in-store hair salons in partnership with InStyle magazine;
Kohl's recently improved its beauty department to include prestige brands Lorac Cosmetics, Bliss, Cargo Cosmetics, Pür Minerals makeup, and Fekkai hair care.
Upstarts such as Birchbox and Ipsy have entered the fold with new subscription concepts and millions in venture capital funding.
The Ugly Truth: Amazon Is Coming
Of course, no retail story would be complete without mentioning the 10,000 ton high-flying gorilla that is Amazon. The retail colossus captures every vertical it can, from books to apparel to office supplies, seemingly on a weekly basis: no one is safe.
With more than 977,000 cosmetic products (166,000+ in makeup alone) versus Ulta's offering of 20,000 mass and prestige products, Amazon's incredibly deep inventory should put other beauty retailers on the defensive. Yes, Ulta, Sephora and Bluemercury (and many other brands) sell at least a fraction of their catalog on Amazon, but every brick-and-mortar location would be wise to consider the long-term implications of Amazon's potential dominance.
Added to all of this, Amazon is hoping to deliver the knockout blow to several shopping verticals with its QVC-styled online shopping talk show, Style Code Live. A recently published survey from Piper Jaffray says that Amazon gained share among respondents as a preferred beauty destination, reaching 10% after lagging behind at 3% only two years ago. Walmart remains first at 30%. Even with the need to try on makeup in person, the long arms of Amazon's empire are never out of reach.
Looking Into The Cosmetics Crystal Ball
An optimistic plan for business growth is never a bad idea, but will 1,200 locations lead to a possible overflow of stores down the line? Ulta already has more U.S. locations than any other cosmetics-only retailer, and its plans for physical expansion goes against digital retail's continued ascent. As other brands expand their in-store and online presences and market themselves as worthy competitors, Ulta will have to differentiate its experiential model even further.
Sephora is upping interactive engagement with a Facebook sponsored Color Correcting Crash Course. Cost-effective omnichannel technology is available to everyone out there, big and small; the playing field is just about level.
Only time will tell if Ulta remains the belle of the cosmetics ball, but one thing is certain: the brand will need to learn some new dance steps to keep moving. To deal with Amazon and other digital competition, maybe kickboxing is in order.