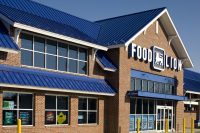 Food Lion unveiled its new shopping experience for customers in 31 stores in the greater Wilmington, N.C. market. The stores are the first in the chain to receive remodels as part of the grocer's "Easy, Fresh and Affordable…You Can Count on Food Lion Every Day" strategy, which was announced earlier this year.
The remodeled stores debut new features intended to ease shopping for customers — including increased selection, more vibrant signage and faster checkout.
"Since announcing our new strategy, we've been doing a lot across the Food Lion chain to create positive change," said Beth Newlands Campbell, President of Food Lion. "We're proud to continue that momentum by launching the first market of enhanced stores that bring all the elements of our new strategy to life to make shopping easier for customers."
Customers will experience numerous changes in the newly-designed stores, including expanded product selection. For example, new stores offer a dedicated Gluten Free section and an increased selection of fresh meat and produce.
Another new offering — Daily Dinner Deals — features hot meals for families of four in the deli department between 4 p.m. and 7 p.m. for approximately $10. The grocer also increased the variety of grab-and-go items and pre-sliced deli meats and cheeses in this department.
Vibrant yellow signage in the stores promotes the company's "Three Easy Ways to Save: MVP On Sale, Extended Savings and Great Value Every Day." On Sale items are savings and promotions that include deals from the weekly flyer. Extended Savings are prices reduced for up to 13 weeks on items throughout the store. Great Value Every Day indicates low prices always available on Food Lion private brand items and in-season produce.
Technology and staffing improvements at checkout include:
Larger display screens so customers can view items and prices as they're scanned;

Additional associates available to bag groceries; and

Blue bags, offered in addition to the traditional white bags, help customers identify cold and frozen items when unpacking at home.
Chain-Wide Changes
Food Lion also announced changes that affect the entire chain. A new weekly flyer, available at www.foodlion.com/weeklyspecials, features a layout intended to help its readers spot low prices. The flyer includes an MVP Savings Center section on the back page that combines weekly specials with coupons from in-store kiosks. All stores are receiving expanded assortments based on customer feedback and consumer research, and all 63,000 associates completed new customer centric training.
"Our customers told us that they want a grocery experience where it's easy to shop, easy to save and easy to figure out what is for dinner tonight. In these enhanced stores, we've worked to deliver just that," said Newlands Campbell. "We invite our customers and the Wilmington community to come out and experience grocery shopping reimagined at Food Lion and let us know what you think about our new stores."
Food Lion will continue to roll out storewide enhancements in markets over time. The company plans to launch an additional 45 remodeled stores in the greater Greenville, N.C. market in November.