Exclusive Q&A with Pair Eyewear Co-Founders Sophia Edelstein and Nathan Kondamuri
Kids' eyewear was a segment crying out for disruption, according to Pair Eyewear Co-Founders Sophia Edelstein and Nathan Kondamuri. It has lots of growth potential: today one in every four kids wears glasses, and that could rise to one of every two kids by 2050. Price points for both frames and lenses are high, and distribution has traditionally been limited to opticians' offices and the major eyewear chains.
Kondamuri and Edelstein, who met when they were both undergraduates at Stanford University, started the company in 2017 determined to create more affordable kids' eyewear that was easy to purchase online. Their other key innovation was a flexible fashion component for the frames in the form of changeable snap-on tops. "Our eyewear was designed from the ground up for kids, because children wanted a product that they could have a choice with on a daily basis," said Edelstein in an interview with Retail TouchPoints. "Their frames could be blue one day, have polka dots for their next dance recital or be green for soccer practice."
For Pair Eyewear, this innovation translated into another benefit: a built-in opportunity for add-on sales, which Kondamuri and Edelstein have supported with limited edition offers and seasonally themed releases. This combination has generated a 30% month-over-month growth rate, with 33% of customers returning to the site within one month of their initial purchase. The retailer also has just opened its first showroom in New York City, though it continues to sell primarily online.
Retail TouchPoints (RTP): What was the original inspiration for Pair Eyewear?
Nathan Kondamuri: I got glasses for the first time when I was eight years old, and it was daunting, scary and a little embarrassing. Wearing glasses is the first time you're going to look different from the other kids, plus glasses feel like a medical device. Fast-forward 10 years and my little brother is going through the same thing I did — he didn't want to wear his glasses, and my mom felt like the 'bad guy' for nagging him to wear them. I talked to Sophia about why no one had tried to re-create what glasses could mean — that they could be dynamic, fun, creative and exciting.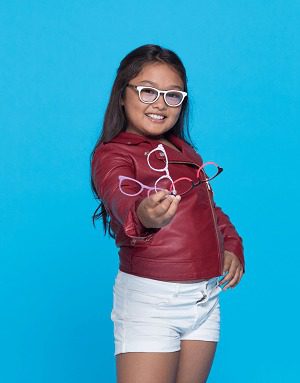 Sophia Edelstein: As part of our research when starting the company, we interviewed more than 500 families to see if these problems were universal. What we heard was that the experience of buying glasses just was not fun — in fact, it was very stressful. Kids were not excited about wearing them, because unlike clothes and shoes, the eyewear didn't have brand names. Also, the average price point was more than $300 for prescription glasses, and parents found themselves dragging the child kicking and screaming into the retail optical experience.
RTP: How did you develop the changeable tops for the frames?
Edelstein: After we raised our first round of investment in spring 2017, we spent the next year prototyping and testing the product. We worked with the former head of product for Warby Parker with the goal of changing a static medical product into one where kids could change the look on a daily basis. We landed on magnetic tops that could easily snap onto the frames, and that change made it fun for the kids.
RTP: What have been the most effective marketing techniques for Pair Eyewear?
Edelstein: It's been interesting because in a sense we have dual customers. The parents are the customers because they are paying for the glasses, but the child is the end user. The parents begin the process; they tend to see Pair through our public relations efforts or a Facebook or Instagram ad. A lot of the growth is organic, that they heard about Pair from a friend. Additionally, we use a lot of user-generated content to show how happy other families are with Pair. Instead of showing picture-perfect photos of child models in a studio, we focus on real families opening their boxes and both parent and child reviewing the purchase.
Because there's a choice of colors, buying the glasses becomes more of a bonding experience rather than a stressful one, and the parent doesn't feel like the 'bad guy.' When they order a pair online, we use a lens factory located in San Diego, which means we can send the pair to their door in under a week. The frames themselves are manufactured in China.
Kondamuri: We also feature post-purchase user-generated videos, because after Pair enters the home, kids are really excited about sharing the experience. They are making TikTok videos where they are snapping the frame tops on and off in time to the music.
RTP: What are the key metrics you use to guide the business?
Edelstein: We track everything. We want to make sure our customer acquisition costs are low and the lifetime value is high. We do a lot of site optimization to quickly create trust on the site, because we understand that glasses are not typically a product that a parent would be familiar with ordering online, for themselves or their children. The goal of our optimization is to make parents feel comfortable making this decision.
In terms of customer lifetime value, we launched a limited edition top frame a few months ago as well as polarized sunglass lens tops, and those sold out quickly. We've also added another Sparkle collection as we've increased our frame drop timetable to twice a month. We're looking to partner with media companies, sports leagues and fashion brands to create licensed top frames using their themes.
RTP: Pair Eyewear features a give-back element, donating a pair of glasses through the EYElliance for every pair sold. Was that always a part of the company's business plan?
Edelstein: The give-back element has always been important to us. In developing countries, kids don't have a lot of options for eye care, and the ability to get someone a pair of glasses is life-changing. We partnered with the EYElliance with the goal of making sure every school-age child around the world has access to vision care, and so far we've helped provide it to more than 5,000 children.
RTP: What are your key business goals for 2020?
Kondamuri: While we're currently selling online only, we're planning to build and expand on partnerships in the established optical retail space. We want to partner with eye doctors and optical stores to establish a space where kids could try on the frames and also try on the various tops. The kids could decide on the purchase in-store and then experience getting their Pair online afterwards. We want to have that retail touch point and stay involved with the eye doctor, and that's a big piece of what we imagine 2020 and 2021 will be about.
Our definition of success is making children's eyewear more empowering, exciting and personalized for them. We want to be part of the daily lives of kids as they imagine glasses as something that can change.