KEEN Footwear has predominantly operated as a wholesale business since its founding in 2003. But as more consumers go right to their favorite brands to shop, the company has sought a greater share of direct-to-consumer sales. With its growing DTC channel nearing 10% of total sales, the retailer completely revamped its e-Commerce site to appeal to the evolving consumer with one major feature: storytelling.
With product categories ranging from steel-toed work boots to sandals to hiking shoes to street-style sneaker boots, KEEN Footwear sought to appeal to several varied consumer audiences. As part of the new experience, the retailer seeks to tell rich stories about the products that are relatable to any shopper browsing the site, according to John Evons, VP Global Direct-to-Consumer at KEEN.
For example, vivid images of the different footwear categories appear in action all throughout the KEEN home page, such as a construction worker wearing work boots or a child sporting Targhee hiking shoes while walking over a pile of pebbles. Scrolling past imagery reflecting the "street-style cozy" Elsa II Ankle Boots enables shoppers to either click "Shop Now" to view the Elsa sneaker collection, or click "See It Styled" to view a blog detailing the latest looks of the collection.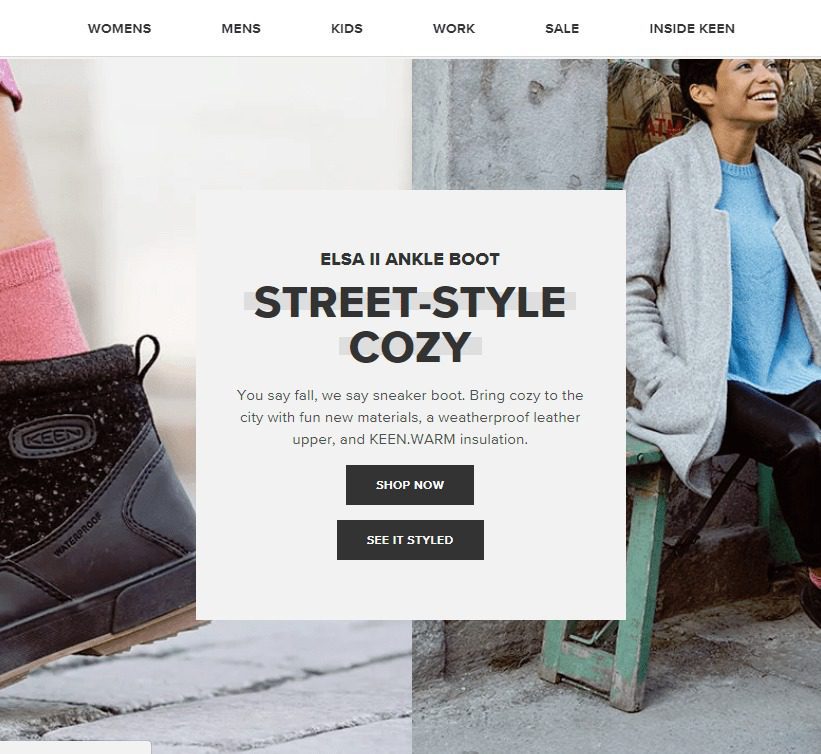 "We built the web site as a whole series of modular patterns that we could apply across the different page templates that we were designing for," Evons said in an interview with Retail TouchPoints. "We didn't just design one incarnation of a home page or category page. We actually built a rich system of modules that essentially give us 30 different ways to tell a story on a home page, or 45 different ways that we could tell a product story on product detail pages. We not only have the tools that we can use to tell richer stories on our own web site, but now these become accelerators that we can use to make the content experience consistent across the entire landscape that our consumers are engaging with our brand on."
To help tell the brand story of its products and deliver an online experience that was consistent with its offline identity, KEEN re-platformed the back end of its site with Salesforce Commerce Cloud (then Demandware). For the front end, the retailer partnered with BASIC, a digital design agency specializing in customer experiences, to build a digital style guide.
"The biggest differentiator that helped me make the decision is that BASIC understood the attention to detail that could communicate itself not just in a style guide-driven format," Evons said. "They understood that, as you started to apply some of the mechanics of CCS animations and JavaScript tools, you could actually bring the brand out in these little nuances that went beyond color palettes and typography, throughout the entire shopping experience."
The next focus for KEEN is hyper-personalizing the content and product storytelling to its various consumer audiences, which Evons anticipates is a six- to 12-month undertaking.
"As you start to exhibit the implicit behaviors of navigating our web site or coming through from different channels of acquisition strategy within our marketing landscape, we have to be able to tailor that experience to be much more focused once you do come onto the web site," Evons said. "The needs of that construction worker are very different than the needs of that new mom and dad having their first child."
KEEN Goes Global With Canada, Europe, Japan Sites
KEEN, along with its sister retail brand for cycling apparel and accessories Chrome Industries, began upgrading their U.S. sites in February 2016. ChromeIndustries.com relaunched in October 2016, while KeenFootwear.com relaunched in May 2017.
But with the help of Salesforce Commerce Cloud and BASIC, KEEN also rolled out various global sites: Keen Canada launched in October 2017 and Keen Europe and Japan launched in March 2018. All sites have translated and localized content experiences and are compatible with local currencies and local payment integrations.
The retailer takes an 80/20 approach to operating these sites: build 80% of the overall KEEN experience to be a global experience, and take 20% of localization to home in on the factors that differentiate shopper needs in each market.
"We have local teams that work in Japan and Europe that are our advocates for the shopper within those regions," Evons said. "Having run businesses in those markets before, we had a good idea of some of the requirements and expectations that these shoppers have. During the discovery phase and even the design phase, we had BASIC start to build design permutations for each of these regional sites prior to even launching our U.S. web sites, so that we were going into it with a clear set of expectations on scope. We weren't coming to each regional site with a need to start over the discovery process and make massive changes to how we were going to go to market."