Heidi Hertel was a mom of three whose daughters needed eyeglasses, but she found the process frustrating. Kids' eyewear was limited in selection and designed to fit a large range of children's faces, which meant they didn't fit any individual very well. Glasses broke easily during kids' activities and they needed frequent replacement as children grew, a problem made more annoying by the high prices of kids' glasses. Hertel wanted to do something to make the process of finding and buying eyeglasses, as well as the glasses themselves, better and more affordable, even though she had no experience in the industry when she started out in 2016.
However, Hertel wasn't making much headway working through the traditional eyewear supply chain. Then, in fall 2017, Apple debuted the iPhone X with its TrueDepth camera system, which projects 30,000 digital "dots" onto the user's face and uses them to map the face in 3D.
Hertel envisioned a groundbreaking app that could measure a child's face with unprecedented accuracy and use 3D printing to manufacture custom eyeglasses. That vision has become Fitz Frames, which has been selling eyeglasses directly to the public through its smartphone app since last summer.
The digital retailer's goal is to change the entire experience of purchasing eyewear, starting with the selection of the style using augmented reality (AR) and ending after the first pair of glasses is delivered to the consumer by mail. Customers who select the subscription option get two complete pairs of eyeglasses and an unlimited number of replacement frames for a year.
App-Based Purchase Path Helps Create Custom Fits
Once Hertel decided to center her company around a mobile app, Gabriel Shlumberger, who was involved in her quest as an advisor, realized his experience made him a perfect fit to join the company, and he became CEO in 2018. Shlumberger had spent more than six years at The Walt Disney Company, where he was involved in the development of approximately 100 apps, he said.
"While the iPhone gives you the ability to take relatively accurate measurements, we had to build a lot of custom, proprietary software in order to get accurate measurements at the millimeter level to be to make glasses that fit great out of the box," Shlumberger said.
"There are more differences in kids' face morphology than there are in adults," he added. "As they grow, there's high variability of bridge width, bridge angle. We've seen measurable changes in the face of the same kid every couple of months, so we had to build a fitting system that could handle a lot of variability."
Fitz Frames Expands Into Adult Eyewear
Using the app is designed to be a fun experience for both kids and adults — Fitz Frames has expanded its product line to include adult eyewear — because its augmented reality (AR) technology allows users to see how different styles look on their own faces.
"We set out to solve glasses for kids and families, and they turned out to be popular with adults as well," Shlumberger said. "Now more than half of our orders are coming from adults." To better meet their needs, the company soon will be expanding beyond single-vision lenses into progressive and bifocal lenses, he added.
Manufacturing eyewear frames with 3D printing brings many advantages. The frames are made in Youngstown, Ohio, within a few miles of the laboratory that produces the eyeglass lenses, allowing Fitz Frames "to turn around glasses and get them out to the customer in about a week," he said.
Subscription Option Offers Unlimited Replacement Frames
Although Fitz Frames takes advantage of state-of-the-art technology, "we don't want technology to be the feature. We want a solution that's enabled by technology," Shlumberger said.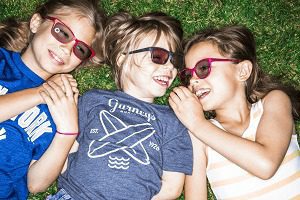 The company's goal is to change the experience of purchasing eyewear, from the first step of selecting styles and eyewear fitting that occurs on the app, to the manufacturing of custom frames, to the pricing and replacement of glasses.
A complete pair of Fitz Frames eyewear, with single-vision lenses with antireflective coating, starts at $95. For a subscription-price of $185, customers receive two complete pairs of eyeglasses and an unlimited number of replacement frames for a year. From the third pair on, customers pay only for lenses and shipping. The subscription option is based on Hertel's and Shlumberger's experience as parents watching children lose, break and grow out of eyewear multiple times over the course of a year.
Seizing Opportunity In PPE — And Moving Toward Retail
Because of its 3D printing manufacturing process, Fitz Frames can respond quickly to opportunities. For example, when COVID-19 hit, healthcare workers who needed to protect their eyes from virus-spreading droplets reached out to Fitz Frames for help. Within 11 days, the company designed Fitz Protect protective eyewear. The frames, which can work with prescription or non-prescription lenses, are designed to hug the unique contours of the wearer's face as a barrier to infection. They can be sterilized and worn comfortably for long periods because they are custom-fit.
To keep cost from being a barrier to frontline workers needing the protective eyewear, Fitz Frames started a GoFundMe campaign. "We were able to give away almost 1,000 pairs for free to frontline medical workers," Shlumberger said.
"We see this as our first variety of specialty glasses," he explained. "We have much more flexibility than a conventional manufacturer because we don't need to produce thousands of identical products for it to be cost-effective, so we can take this company in a lot of different directions."
This combination of flexibility and scalability underlies Fitz Frames' plan to become a supplier to other retailers.
"We were supposed to start a retail pilot program in April before COVID-19. That's on hold for now, but by no means do we intend this company to be exclusively direct-to-consumer," Shlumberger said.
"We think we have a great baseline product in the frames and lenses we offer through the app. We wanted our first solution to provide tremendous value," he added. "But we have a very flexible manufacturing and business model that can produce a wide variety of offerings." Schlumberger expects to work with other retailers to develop upgraded versions of its current selection of frames and lenses, as well as to come up with exclusive shapes and patterns for individual retailers.
The Fitz Frames app works on an iPad that could be used in-store, even by employees without prior optical industry experience, and "the fact that we have a solution that doesn't require a retailer to carry any inventory is compelling."
Shlumberger said the company has talked to retailers that do not currently offer prescription glasses about expanding into the business in partnership with Fitz Frames, as well as to optical retailers.
Fitz Frames already has demonstrated the ability to rapidly pivot and expand its operations. "As we built the company, we spent a lot of time building in the ability to scale manufacturing very quickly," said Shlumberger. "Since coronavirus started, for example, our sales have more than doubled month-over-month for three months and we've added an extra 50% capacity."
Noting that financial backing would be needed if Fitz Frames were to significantly scale up manufacturing, he added that "we are actively raising a Series A funding round."