Growth can be a challenge, particularly when there's new leadership at a company with brands that date back as far as two centuries as well as wide distribution across mass, department and specialty store and e-Commerce channels.
WestPoint Home, a home textiles wholesaler and direct-to-consumer online retailer, is such a company, and CMO Regan Iglesia was eager to take up that challenge when he joined the company less than two years ago.
In that time, Iglesia has been focused on accelerated growth through initiatives that include:
Expansion into a new and fast-growing merchandise category — personal face masks.
More investment in, and greater emphasis on, direct-to-consumer (DTC) e-Commerce; and
The launch of web sites for three brands — the first time the company has expanded beyond the mothership site, westpointhome.com.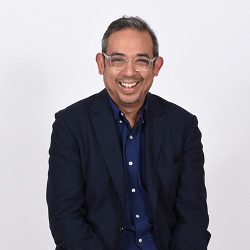 WestPoint Home manufactures, markets and sells home fashions under familiar brands that include Martex and Vellux and licensed names that include IZOD and Hanes. A division of Icahn Enterprises, WestPoint Home brought in sales of $187 million in 2019.
Iglesia joined WestPoint Home as CMO in December 2018, where he was reunited with President and CEO Jonathan Witmer. The two had worked at the same organization a few years earlier, and Witmer had just taken the reins at WestPoint Home in May 2018. Iglesia was previously President of the Thomasville division of the Heritage Home Group, but he spent the bulk of his career — more than 25 years — with Waterford Wedgwood.
Doing Well By Doing Good
In the early days of the COVID-19 pandemic, especially in WestPoint Home's home base of New York City, there was suddenly such a high demand for face masks, particularly for healthcare and other essential workers, that companies and consumers pitched in to make fabric face masks.
"We have a DC and a cut-and-sew facility in Florida, and one of our managers down there had the idea of making face masks. We just wanted to donate them as part of the humanitarian effort," Iglesia recalled. While retail orders diminished due to closed stores, "we just pivoted our seamstresses from making sheets and pillowcases, comforters and duvets to making face masks," he said.
WestPoint Home manufactured and gave away hundreds of thousands of masks to the New York Police Department, the military, hospitals, nursing homes and even veterinary clinics.
"We felt we had 'a better mousetrap' with our masks because we had recently developed an antimicrobial fabric. We had just started selling sheets, gowns and privacy curtains into the healthcare channel through a new unit we called Martex Health," Iglesia said. The company's proprietary antibacterial fabric is called SILVERbac; silver fibers are woven into the fabric and cannot be washed out.
Retailers started asking to buy the masks, but WestPoint Home initially declined because the company was focused on the needs of essential workers. By May, as more medical masks became available and the panic eased, WestPoint Home executives considered making masks part of the business, although it was seen as "a line on the side," Iglesia said. "Since then, it's been a runaway hit."
With so many retail stores closed, WestPoint Home's core business sank, but the face mask revenue offset these losses. Even though the price of a mask is a fraction of the price of a set of sheets or towels, WestPoint Home sold three- and five-packs of masks to boost prices and margins. "It all balanced out," Iglesia noted.
From a design standpoint, the masks evolved from solid colors and simple patterns into a wide range of designs for both children and adults. WestPoint Home has face masks made of pleated fabric ready to be sold for Halloween, with skulls, ghosts, tigers and other season-appropriate patterns.
The company is currently selling face masks for Christmas, Hanukkah and New Year's Eve to retailers. "We've already had requests for Mardi Gras, and we might do Valentine's Day and St. Patrick's Day, too," Iglesia added.
Even after a vaccine is available and masks are no longer required in many public places, Iglesia thinks there will be a permanent shift in the way consumers think about hygiene and cleanliness.
That sense is reflected in a line of bedding the company is developing with its SILVERbac technology called Clean AF. (AF is an abbreviation of a common expletive.)
"It's for back-to-campus next year. A dorm room is a harbor for bacteria," Iglesia said. Although there was some hesitation about using AF, "we are using it to show that we have a youthful aesthetic."
Reviving Brands With Dedicated Web Sites
The plan to build up WestPoint Home's e-Commerce business goes hand-in-hand with the launch of its new web sites, part of Iglesia's strategy of developing new and revived brands.
The three brands that now have dedicated e-Commerce sites are Gryphon, Vellux and Lady Pepperell. Westpointhome.com acts as the e-Commerce hub for the remaining brands, including the licensed collections, which have their own "shops" within the site.
"Our e-Commerce business is very small because the sites are so new," Iglesia said.
Launched in fall 2018, Gryphon is the newest brand in the WestPoint Home portfolio. It is sold only DTC, a strategy that is integral to the Gryphon concept because the brand is competing in a DTC niche favored by Millennials.
"The mattress-in-a-box trend took off a few years ago, and the next category to emerge was sheeting," Iglesia explained. "New DTC sheeting brands came out, they told an amazing marketing story, and they took off. We looked at that and said, 'They're all sourcing their sheets, but we have our own sheeting factory, as well as 200 years of heritage and experience.'" WestPoint Home operates its own factory in the Kingdom of Bahrain, where it now manufactures Gryphon's Supima cotton sheets in three different fabric qualities — easy care, percale and sateen.
"Vellux.com, the site for our blanket brand, launched in fall 2019," Iglesia said. "The name dates back to the 1960s, and it's still a very good seller, but we wanted to do more with it when we introduced our new plush weighted blankets for the holidays."
Lady Pepperell launches on the web this month, coinciding with its introduction to retail buyers at the virtual edition of the New York Home Fashions Market Week being held Sept. 14-17.
"Lady Pepperell was born in the 1920s, but it was dormant. I say that this is the return of Lady Pepperell," Iglesia explained. "The style is vintage floral prints. We originally aimed it toward the Millennial audience, but we found that floral is a very big statement that appeals to multiple generations. We struck gold with that."
Besides enabling DTC sales, e-Commerce sites allow Iglesia and his team to tell each brand story exactly as they want.
"We put a lot more content into our direct-to-consumer sites. We have the romance copy and we're starting to invest in video right now," he explained, adding that "more rich content" will also help retail buyers capture the ethos of the key collections during the virtual market week.
Iglesia is gearing up to work next with computer-generated imagery (CGI). "There's an influx of agencies working with CGI now because of the pandemic, and it's perfect for virtual reality (VR) and augmented reality (AR)," Iglesia said.
He plans to use 360-degree VR for the reintroduction of the Flatiron brand in 2021. Although the brand debuted approximately five years ago, not much has been done with it since then.
Flatiron is a menswear-inspired collection with a lot of texture in solid colors and neutrals. To capture the feeling of the brand, "you have to see it in the type of setting where the target consumer would live, and that's what CGI does," he added.