Coming up with a great product is only half the battle for inventors/entrepreneurs. Often, the real challenge involves getting the ear of retail gatekeepers and convincing them that the new product deserves shelf space.
Lowe's is seeking to create a more direct path to its shelves for SMBs run by diverse — and frequently underrepresented — backgrounds, including women and minorities, via its new "Making It…With Lowe's" program. Through Sept. 25, small business owners can apply on Lowes.com/MakingItWithLowes. The retailer will winnow down these pitches to an initial 375 small businesses, then narrow the pool to 75 who will be invited to submit more in-depth stories via video.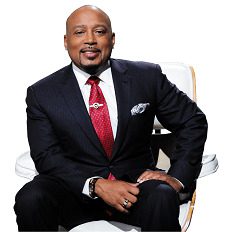 The top five will participate in a one-day virtual pitch challenge hosted by Daymond John, star of ABC's Shark Tank; leading up to the pitch, John will mentor the finalists. The finalists will be featured on Lowes.com later in 2020, with results revealed on Lowe's social channels in early 2021.
The program is "giving these minority-owned businesses a much-deserved chance to shine while uncovering unique, smart products that will make Lowe's shelves even more appealing to customers," said John in a statement. "The pandemic has created a situation where business owners are constantly pivoting and deepening their creativity and problem-solving abilities, especially minority-owned business who have more at stake, more to lose."
Lowe's EVP of Merchandising Bill Boltz provided details on the motivation for the program, and what the retailer hopes to accomplish, in an exclusive Q&A with Retail TouchPoints.
Retail TouchPoints (RTP): Where did the impetus for the program come from?
Bill Boltz: Earlier this year, we donated $55 million to minority- and women- owned small businesses and those in rural markets to provide critical emergency relief for small businesses impacted by the pandemic. We received more than 800,000 applications, and that process inspired us to take additional action to support the diverse small businesses that are the backbone of our economy. Within merchandising and marketing leadership — and championed by our CEO Marvin Ellison as well — we came up with the idea of "Making it…with Lowe's" as a chance to break down the barriers and provide easier access for diverse small businesses to get in front of a Fortune 50 company.
We're also providing this opportunity to help small companies grow big enough to service retailers the size of Lowe's. Through this process, our focus is on finding new and innovative home improvement products that can be launched online and or in-store as we continue to be the customer's advocate for value.
RTP: Will you be looking for products that are ready to go into production immediately, or ideas that might require additional development?
Boltz: We are looking for products that are ready to hit the shelves immediately, or at least in the near term. We'll be looking for unique and innovative products that provide unprecedented value to our consumers.
RTP: You noted that this initiative grew out of the donations Lowe's made earlier this year, but was there additional motivation from the Black Lives Matter protests and demonstrations that have been so prevalent in 2020?
Boltz: We know that diverse small businesses have been disproportionately impacted by the pandemic — but also by broader systemic racism and barriers that preclude diverse-owned businesses from having the same opportunities as others. The grant program process inspired us to take additional action.
RTP: What are the benefits of a retail "shelf" that includes representation from traditionally underrepresented groups?
Boltz: Offering our customers greater access to products being created by diverse small business owners allows Lowe's digital and physical shelves nationwide to better reflect the diverse communities we serve, and ultimately provide even better products for their home improvement needs.
RTP: How important is it to have someone like Daymond John offering advice and mentorship to the finalists?
Boltz: Mentorship is always incredibly important, especially for small businesses looking to scale and navigate the complexities of providing large purchase orders to large companies. In addition to Daymond's mentorship, the Lowe's team will also be mentoring these small businesses as they advance through the process, and we envision that experience, captured and shared over our social media channels, will provide pointers to other small businesses too. We hope the demand supports Making it…with Lowe's becoming a regular program; we're excited to launch this program initially and certainly hope to expand in the future.