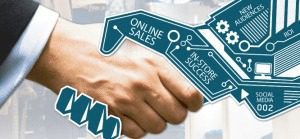 Up to 90% of consumers prefer to look at products in-store, even if they ultimately complete their transactions online, according to a recent survey from A.T. Kearney. Additionally, the U.S. Commerce Department reports that 94% of sales still take place through traditional retail channels.
But the reality is: We're living in an omnichannel world, and consumers enjoy learning about — and buying from — cutting-edge online-only retailers.
Rather than competing against each other, brick-and-mortar and digital retailers can converge to build profitable relationships. An article from the Retail News Insider newsletter, titled: Online Goes In-Store, uncovered how brick-and-mortar stores benefit from partnering with eTailers.
1. Get a boost to the bottom line: Brick-and-mortar retailers can charge partner retailers rent for the space they occupy in a store. For example, e-Commerce company BaubleBar has presence in more than 135 Anthropologie and Nordstrom locations, and Bonobos has mini stores in more than 100 Nordstrom and Belk locations.
2. Gain expertise in new areas: Retailers can leverage these partnerships to learn more about e-Commerce best practices that many pureplays have already acquired. Improving the digital experience creates yet another opportunity to improve customer engagement, loyalty and overall sales.
3. Expand specialty offerings and capture new audiences: By featuring an online-only retail partner in stores, brick-and-mortar retailers can take more chances, break into different markets and acquire new customers. Items that a retailer may consider too risky to add to its inventory may be more desirable once they sell in stores.
4. Offer great convenience and value: A partnership between two different retailers can create a new value proposition for the consumer, in that they will have the chance to end up with multiple brand products in their shopping cart. The report pointed to two UK retailers, Sainsbury and Argos, as an example of a successful partnership that offered exceptional value to consumers. In this case, consumers grocery shopping at Sainsbury stores can then visit an in-store Argos shop to purchase a complementary barbecue grill, cake pan or knives set.
Click here to access the piece.