One of the biggest challenges non-essential retailers have faced as they reopen stores has been operational rules that vary by state, county and sometimes city by city. After a few weeks of trying to accommodate the varying guidelines as its 128 stores in 20 states reopened, the executives at Bob's Discount Furniture decided to write Bob's Rules, which would be followed at all stores coast to coast. And to make sure the policies could be applied everywhere, Bob's Rules went above and beyond the local mandates.
"We came up with our own comprehensive strategy nationwide rather than wait for a local government to tell us what we had to do to reopen the stores or operate effectively," said Roger Dunlap, SVP of Sales and Operations at Bob's Furniture in an interview with Retail TouchPoints. "We decided to figure out what the right thing to do was for all our stores, regardless of where they were located, and we came up with our own protocols.
"Our guiding light through this whole thing is to do what's right for our people," Dunlap added. "From the beginning, we told our associates that we would put safety over sales, and we're doing everything possible to watch out for their well-being."
Bob's Rules focus on three areas — cleanliness, a healthy environment and safety — and include the following practices:
Cleanliness: Bob's Furniture stores are professionally cleaned daily, and associates are encouraged to use disinfectant wipes on surfaces throughout the day, and to wash their hands frequently to maintain hygiene.
Health: Every individual coming into the store, whether employee or shopper, is asked a series of questions to determine if they might be sick. Employees who don't feel well are sent home; customers who don't feel well are politely encouraged to go home. Associates have their temperatures taken with an electronic thermometer when they arrive for their shifts, and customers are given the option to have their temperatures taken. Dunlap estimates that more than 90% of shoppers agree to the temperature check.
Safety: By limiting the number of customer parties that are allowed into a store at one time, generally to between 10 and 15, Bob's creates "a very low-risk environment," Dunlap said. This density is inevitably less than the fraction of total capacity that is allowed by local authorities, because Bob's stores range from 30,000 to 40,000 square feet in size. Signs throughout the store and markers on the floor remind people to stay six feet or more from one another. Salespeople follow shoppers at the recommended distance while remaining ready to answer any questions.
Associates have been required to wear masks since the stores reopened, and in mid-July Bob's instituted a nationwide mask requirement for all customers, reasoning that "90% of our stores were in areas where masks were mandated anyway," Dunlap said.
Ensuring A Friendly Shopping Experience
While adhering to Bob's Rules, store personnel make sure the environment is welcoming. This starts at the front entrance, where shoppers encounter a greeter who acts as an ambassador and sets the stage for the shopping experience. This is a new position in the stores. "They ask the health questions, take temperatures and explain our protocols," Dunlap said. If a visitor objects to wearing a mask, for example, the ambassador is trained to defuse the situation.
"People feel good when they come into a store and see the greeter, when they see people are adhering to the mask policies and practicing physical distancing," he adds. "The last thing you should worry about when shopping for furniture is whether the place is clean, healthy and safe."
One of the primary reasons consumers visit brick-and-mortar showrooms is to discover how furniture and mattresses feel when they sit or lie down on them. To ensure customers can have that experience, along with confidence that they can do it safely, Bob's offers customers a thin, disposable fabric cover they can use when they want to try out a mattress or any other item in the store.
"We had been using coverings made from this material on pillows, and we thought, 'Why don't we make a bigger one we can use for mattresses or anything people would want to sit on?'" Dunlap explained. At the end of the visit, the coverings are discarded.
Accelerating Omnichannel Development
While its physical stores were closed during the shutdowns, Bob's enjoyed robust e-Commerce sales and picked up new skills for engaging customers outside of the stores. "We saw and continue to see growth in our e-Commerce business, and we see a big opportunity to continue to expand our online presence," Dunlap said.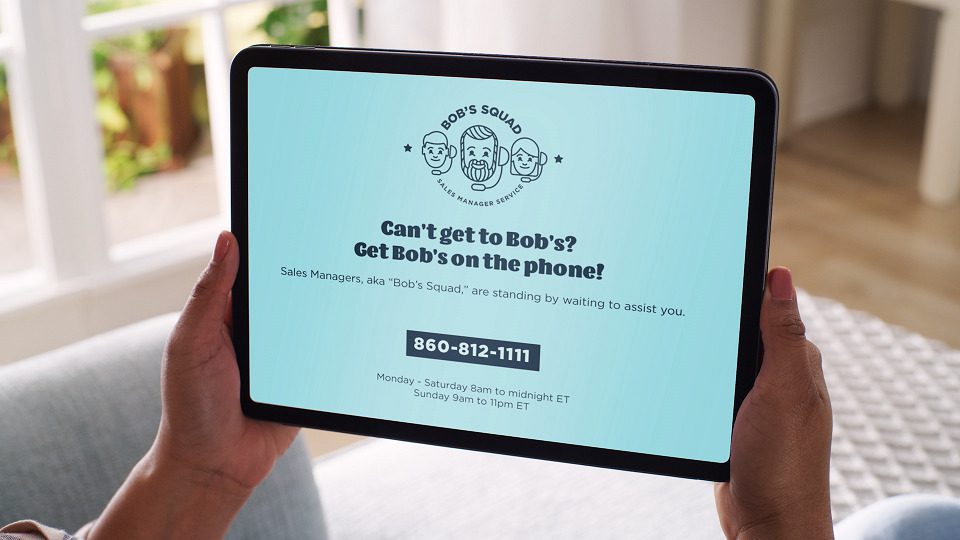 One competency the retailer gained is in providing personalized sales assistance over the phone. "We tested phone sales about a year ago, and we discontinued it because we didn't see a great amount of success," he said. Once the stores were closed for the pandemic, though, Bob's reinstituted its phone force, which it calls the "Bob's Squad."
"We initially used our store managers. Since we brought our salespeople back, they've taken over the role. This is something that will be a part of our business going forward," Dunlap said.
"A second thing we are bringing forward is shopping-by-appointment," he added. "In a lot of municipalities, that's the only way we could do business for a while. We worked with our web team here at Bob's and developed an online appointment system, and we think there will be continued demand from people to visit the stores before or after regular hours."
Pandemic Isn't Slowing Store Growth
Over the past five years, Bob's has doubled in size, from approximately 60 locations to its current 128. Since the beginning of the year, Bob's has opened eight new stores, adding locations in California and Michigan while launching in Ohio. By Labor Day, seven more stores will be added to the chain, as it enters the Phoenix market and increases its presence in Ohio and Kentucky. By the end of 2020 Bob's will have 135 stores in 21 states.
Looking ahead to 2021, "we're moving forward with our regular expansion plans," Dunlap said, adding that the chain has been expanding at a pace of roughly 15 to 18 new stores every year.
"Our business has been positive since we've reopened," he observed. "If this trend continues, we should finish the year strong." Dunlap added that the company feels optimistic about its growth plans, despite the pandemic, because "the business model of providing quality furniture that everyone can afford is working."