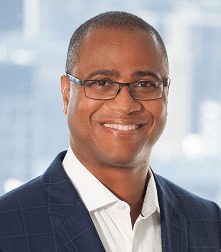 Macy's has appointed Adrian Mitchell as its new CFO, effective Nov. 2. Mitchell will take on responsibility for leading all finance functions and will report to Macy's Inc. Chairman and CEO Jeff Gennette.
Felicia Williams, who has served as interim CFO since June 2020, will join CEO Action for Diversity & Inclusion as a Macy's Inc. Fellow. This group brings together more than 1,300 CEOs and presidents of America's leading businesses, academic institutions and nonprofits representing more than 13 million employees, with the goal of supporting workplace diversity and inclusion. Williams, who joined Macy's in 2004, will play a key role in identifying, developing and promoting scalable and sustainable policies, and corporate best practices to address systemic racism and social injustice.
Mitchell joins Macy's from Boston Consulting Group (BCG), where he was a Managing Director and Partner in the Digital BCG and Consumer Practices division. Prior to joining BCG, Mitchell had a wide range of retail experiences, including serving as a Board Director at REI; as CEO of home furnishings retailer Arhaus; as CFO, COO and interim CEO at Crate & Barrel; and in several management positions at Target.
"In a retail environment where change is accelerating beyond what we could have imagined a year ago, Adrian's depth of financial and operational experience, coupled with his leadership in strategy, innovation and transformation, will help us on our path to emerge a stronger company," said Gennette in a statement.