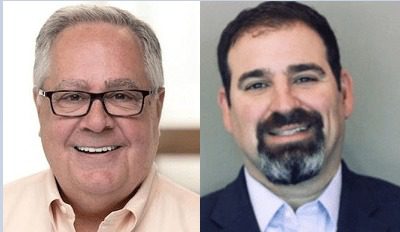 Walmart recently announced plans to restructure its supply chain to gain a larger foothold in the e-Commerce market — but will it be enough to compete with Amazon?
From its 2016 acquisition of Jet.com to buy online/pick up in-store (BOPIS) options and vending-machine-like pickup towers, Walmart has made strides in meeting customer demand by beefing up its omnichannel strategy. An overhaul of the retailer's supply chain is the next step in strengthening its e-Commerce offerings to compete with Amazon, and low-cost nanotechnology like smart labels could streamline the process.
The Future Of Retail
The e-retail industry has experienced steady growth since 2014. Online retail sales worldwide totaled $3.53 trillion U.S. in 2019 — and they're expected to nearly double that amount by 2022.
In the world of online retail, Amazon remains king. The largest e-Commerce retailer by online revenue in the world, Amazon holds a significant lead over its rivals. The tech giant is expected to generate about 38% of all U.S. retail e-Commerce sales in 2019, followed by eBay with 6.1%, Walmart with 4.7% and Apple with 3.8%. Despite its third-place ranking, Walmart has a lot of catching up to do if it wants to compete with Amazon in the e-retail space.
It's worth noting that brick-and-mortar still accounts for about 90% of total retail sales. Yet while Walmart remains the top retailer in terms of physical stores, Amazon has steadily encroached on Walmart's territory with its acquisition of Whole Foods and the introduction of Amazon Go and Amazon 4 Star. And even though brick-and-mortar accounts for the majority of sales today, it's e-Commerce that's shaping the future of retail.
A More Integrated Omnichannel Experience
Consumers' preference for the ease and convenience of online shopping has forced Walmart to make operational changes to help close the e-Commerce gap with Amazon. It should come as no surprise then that Walmart recently announced plans to offer same-day grocery delivery from 1,600 stores across the U.S., as well as free next-day delivery on a variety of general merchandise, without a membership fee.
Making good on these promises, however, requires robust logistics that can handle a lot more online orders than Walmart is accustomed to. Plans to restructure its supply chain will help Walmart deliver a more seamless omnichannel experience to its customers. But that's easier said than done, especially given logistics threats like product recalls, counterfeit products, product diversion and theft.
Low-Cost Nanotechnology Can Help
While most big-box retailers use expensive tracking technology on high-price electronic items, low-cost nanotechnology can significantly streamline the supply chain of everyday goods. In a market where a single logistical mistake can result in the loss of countless consumers, this technology could attract dissatisfied customers away from the competition.
Like traditional product labels, smart labels are made of paper, fabric or plastic, and can attach directly to any item. But unlike traditional barcodes, smart labels securely track and share a product's data through a simple smartphone scan, creating a secure audit trail of the item's journey, changes in ownership and events along the way. Smart labels create efficiencies in the supply chain, providing a much-needed competitive edge for retailers looking to scale their e-Commerce offerings. Smart labels can help companies:
Save time and money: Effective shipping is about moving a product through the supply chain as quickly and accurately as possible. Unfortunately, there are many obstacles that stand in the way of achieving this goal. For example, if an item is shipped to the wrong place, it then has to get shipped back or drop-shipped, which ultimately increases costs to retailers — both in transportation fees and customer dissatisfaction. Smart labels send an alert when a product is headed to the wrong location, so retailers can fix potential errors in real time, improving their product margins.
Increase loyalty and attract new customers: Smart labels aren't just for manufacturers and distributors. Consumers can scan smart labels on their mobile devices to access a trove of relevant product data. The smart label on a package of kale, for instance, could reveal the farm it came from, how long it was in transit, the expiration date, nutritional information, recipe suggestions and special offers. These labels are especially useful during product recalls. A quick smartphone scan can quell consumer confusion and fear by immediately relaying the details of a product recall. Today's consumers want information about the products they're buying and favor retailers that make access to those details quick and convenient.
Scale with ease: Smart labels require no major upfront costs or time investments. Advances in scanning capabilities, energy harvesting and cryptography have made nanotechnology work better and cost less per unit. Smart labels are digitally printed directly onto a product's packaging, integrating seamlessly with a retailer's existing packaging system. A few procedural changes are all it takes to implement these labels on a large scale.
Deter fraud and theft: Nanotechnology can stop theft before and after a product arrives in the consumer's hands. Products are frequently stolen from stores, warehouses, and distribution centers. In fact, earlier this year a band of thieves was caught stealing entire tractor trailers and their accompanying cargo. The tracking technology embedded in smart labels can help stop thieves in their tracks and deter would-be bandits. Similarly, savvy consumers have learned they can often get away with returning products to different retailers for more money. For example, Walmart might carry a proprietary brand of Wrangler jeans that's been designed with fewer pockets to cut costs for the customer. The jeans look remarkably similar to the general line, so the customer could try to return them at a different retailer for more money than they originally paid. A smart label scan, however, could easily reveal attempted deceptions.
Realistically, Walmart likely won't be able to compete with the e-Commerce capabilities of Amazon anytime soon. But the retailer can differentiate in other ways. By doubling down on its already strong grocery and everyday offerings, Walmart can maintain its reputation as the go-to retailer for busy families. Low-cost nanotechnology like smart labels can help Walmart gain a competitive advantage in this arena by streamlining its supply chain, creating efficiencies and going above and beyond customer expectations.
---
Steve Maul is the Chief Revenue Officer at LocatorX and brings nearly 40 years of successful marketing, sales, performance improvement, and management experience to the LocatorX team. Prior to joining LocatorX, Maul founded The Semantics Group in 2011, a sales effectiveness firm focused on helping its clients get and keep customers through a variety of assessment tools, strategic alignment, learning and coaching programs that Maul authored and delivered to clients.
Randy Rubenstein joined LocatorX in April of 2019 as Director of Business Development. Rubenstein brings over 20 years of Sales & Business Development experience to the LocatorX team. He has an extensive background in Importing, Consumer Packaged Goods, Brand Protection and Consumer Engagement programs for Fortune 1,000 companies. Before joining LocatorX, Rubenstein was with the brand protection firm Authentix, where he developed and executed a successful business development strategy to enter the CPG and Luxury Good markets. Prior to Authentix, he was with WME-IMG/JPatton and responsible for sales and business development efforts.